Yorkshire Wolds Cycle Route
Our 2013 multi-day ride was a shorter one than usual, and only involved one night away from home. We had hoped, by choosing a shorter route near to home, to entice some new participants to join the regulars, even if only for part of the ride. In the event, we only had one new rider, Stuart, who joined the group on Day One, and returned home to York by train from Bridlington. The others were Paul, Jim, Brent and myself.
The Yorkshire Wolds Cycle Route is a circular route of 146 miles (235 km), taking in Malton, Bridlington and Beverley, with connecting routes to Brough, Hull, Scarborough and York. We had decided to join the Wolds route at Pocklington, then cover the northern half (via Malton) on Day 1. We spent the night in Bridlington, and next day continued around the southern half, via Beverley, to Pocklington, and finally back to York.
The ride took place on a weekend in July, and the weather forecast was for warm and sunny weather.
Day 1 York - Pocklington - Malton - Bridlington (95 miles, 153 km)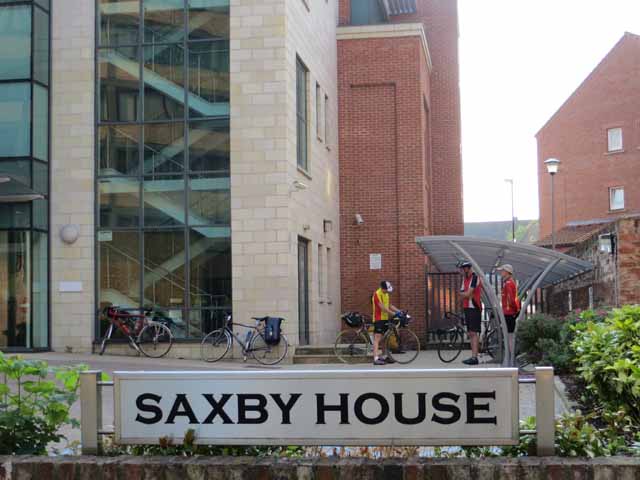 The riders convened at 8 o'clock outside our offices in York, and after applying sun protection, we set off via Elvington to Pocklington, which we reached in about an hour. Here, we picked up the Wolds Cycle Route which took us along quiet and picturesque roads, including the dry valleys near Millington Pasture and Thixendale. The climb out of Thixendale was followed by a fast descent into Leavening, where we took a right turning, as signposted. Shortly after, we realised we were not on the route shown on our maps, but we continued to follow the signs. We noticed a few more discrepancies later in the ride, and it wasn't until we got home that we found that our map was out of date. However, the differences were minor and it didn't really matter whether we followed our map or the signage. The route appeared to be well signed, although some signs were becoming obscured by growth of vegetation.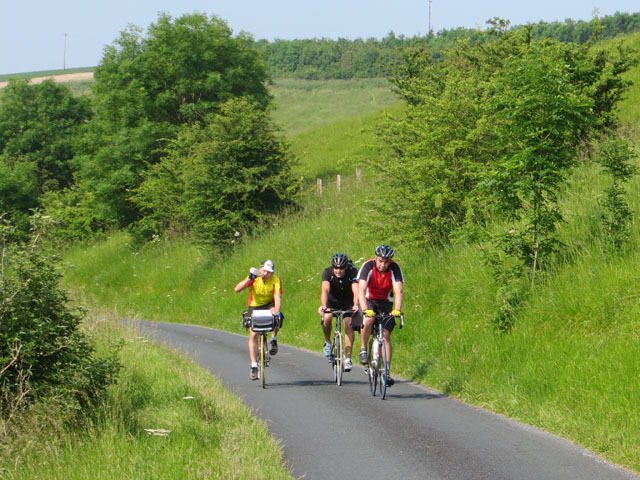 We had a surprise meeting with one of our former colleagues, Tim, who was working on the restoration of an old diesel shunting engine (a Class 08) on some land rented from a farm. This gave us a chance for a break while we had a chat with him.
Near Westow, Paul got a puncture, and I stayed with him while he changed his inner tube, the other three continuing ahead. There was a steep climb after the Stone Trough Inn at Kirkham, but then it was generally downhill for the next few miles towards Malton. Paul had his own food for lunch, so he continued along the main Wolds route rather than take the detour into Malton. I caught up with the other three in the cafe on Malton station.
The station cafe does good value cooked meals, so we all took the opportunity to have a full meal, and replenish our water bottles.
The first challenge of the afternoon was the steep climb out of Settrington, and here we had a setback when Stuart's chain broke. While inspecting the damage, a passing driver with a bike rack on his car gave Stuart and his bike a lift to the top of the hill, and offered him a lift to Malton station. We don't give up that easily though, and as Brent had a chain link extractor tool, he managed to remove a pair of links and re-join the chain, and we were back on the road in half an hour.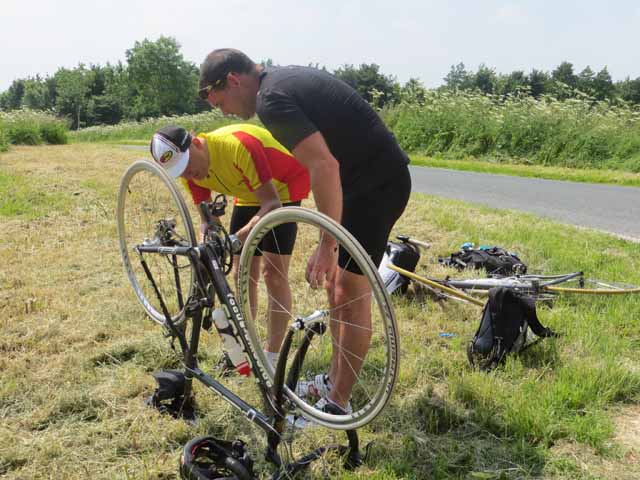 We thought we might be able to stop for a cuppa at Sledmere House, but surprisingly it was closed, so we carried on to Weaverthorpe, where we caught up with Paul at the Star Inn. It was very pleasant sat outside drinking our tea.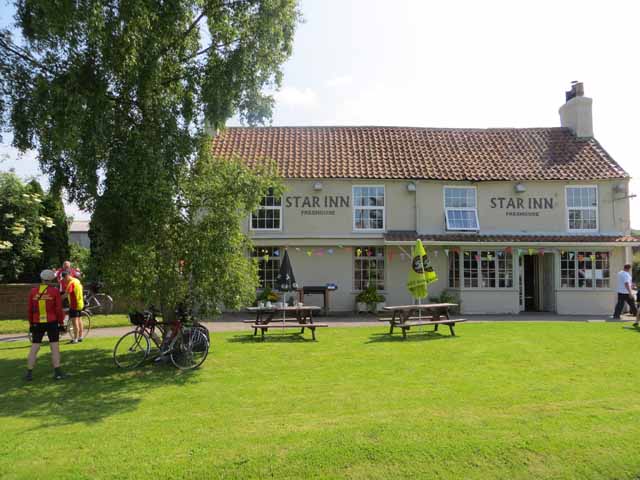 On the next stage Paul took a short cut, as he was not feeling up to doing the full mileage, so he rode direct from Foxholes to Burton Fleming while the rest of us followed the route on our map, through Fordon. We all met up again at Burton Fleming.
Although the gradients were now less severe, there was an onshore breeze developing as we approached the coast, and I was beginning to tire and drop behind the other four. On the road towards Grindale they disappeared from my sight over the brow of a hill, but as I reached the crest I caught a glimpse of a group of cyclists ahead who turned off to the left. I took the same turning without checking the route, and had been following this road for about 2 miles when I got a phone call from Paul asking where I was. I wasn't immediately sure, but just then I turned a corner to find another group of cyclists stopped at a junction. I realised I had taken a wrong turning, so had to retrace my route to Grindale. Confusingly, the road I had taken was signposted as the Wolds Cycle Route, but this was another stretch where it differed from our map and I had actually been following it in the wrong direction.
Once I was back on the correct route, I slowed to a more leisurely pace. I reached the coast at Sewerby, from where a dedicated cycle path leads into Bridlington. I caught up with the other three (Stuart had already left) in the beer garden behind the Telegraph pub. I was ready for that beer!

In the evening we headed towards the old town rather than the sea front, and had a good meal in an Indian restaurant. We then called at a couple of mediocre pubs in the old town, before deciding that they weren't as good as the Telegraph, so we returned there for a final drink before bed.
Day 2 Bridlington - Beverley - Pocklington - York (80 miles, 129 km)
We set out at 9.15 after a hearty breakfast, and began by heading inland along a Roman road with a gentle uphill gradient. The route then dropped back down from the Wolds and generally followed the route of the railway, crossing it six times as we progressed through Burton Agnes, Nafferton and Driffield. This part of the route coincides with the Way of the Roses cycle route, and some stretches are closed to through road traffic.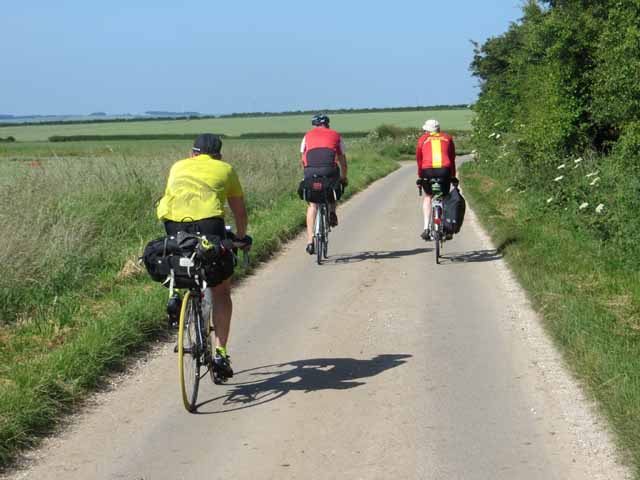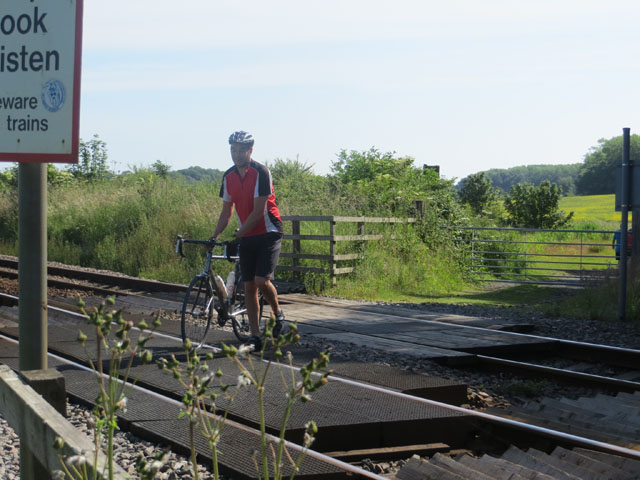 We stopped for refreshments at the Cranswick Garden Centre, which was very popular with other cyclists.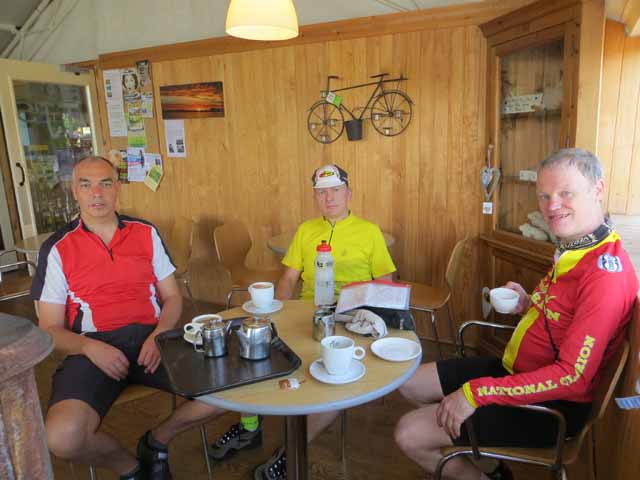 Another gentle climb took us back onto the edge of the Wolds, then we turned southwards again on a fairly level route to Cherry Burton and Beverley.
Jim, Brent and I had fish and chips for lunch at Harper's restaurant, while Paul sought some veggie food for himself.
We then headed westwards to Walkington, and then uphill on the back road to South Newbald, with a fast descent into the village. From here, Paul decided to take another short cut, taking the main road direct to Market Weighton, whereas we stuck to the official route, which rather perversely turns back to the east, with a hard climb back up into the Wolds. The signed route takes an off-road track across Newbald Wold, and this looked too rough for our road bikes, so we carried on along the road. We had to endure a mile or so of heavy traffic on the A1079 before we could get back on-route. Paul was waiting for us in Market Weighton, and we paused here to take on extra supplies of drink. Although the gradients were easier than yesterday, it was still thirsty work in the warm sunshine.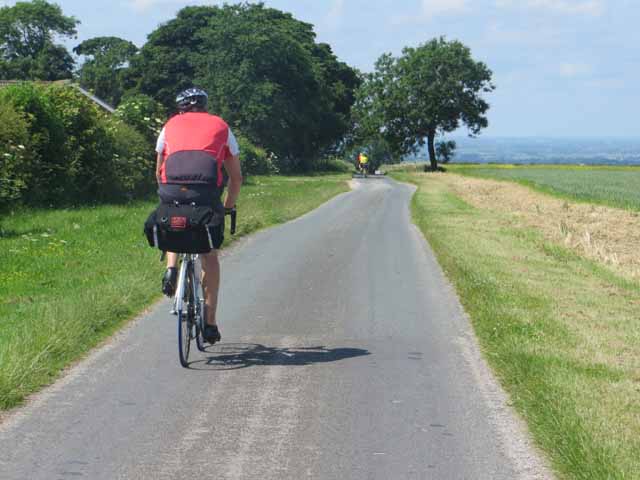 The final stretch of the Wolds Cycle Way took us on minor roads to Pocklington, where we found a cafe with outside tables for an afternoon cup of tea.
Our route back to York was again via Elvington, although with a slight variation on the outward route. We celebrated with a pint or two at the Waggon & Horses on Hull road. We sat outside in the beer garden, as the pub was full of people watching some Scottish guy playing tennis on the TV.
Although shorter than our rides in previous years, there was plenty of really good cycling. Almost all of the route was on very quiet but well-surfaced roads. We may have been seduced over the last two years by the excellent provision made for cyclists in Belgium and the Netherlands, but the scenery in the Yorkshire Wolds takes some beating.
Maps
I would recommend the Sustrans map of the Yorkshire Wolds, York and Humber, which shows the route clearly. The Sustrans website online mapping also shows all parts of the route, but doesn't distinguish the "official" route from other cycle routes in the area. We used this map which we found online, but it is not up-to-date and has some minor differences from the signed route.