Five Nations Cycle Tour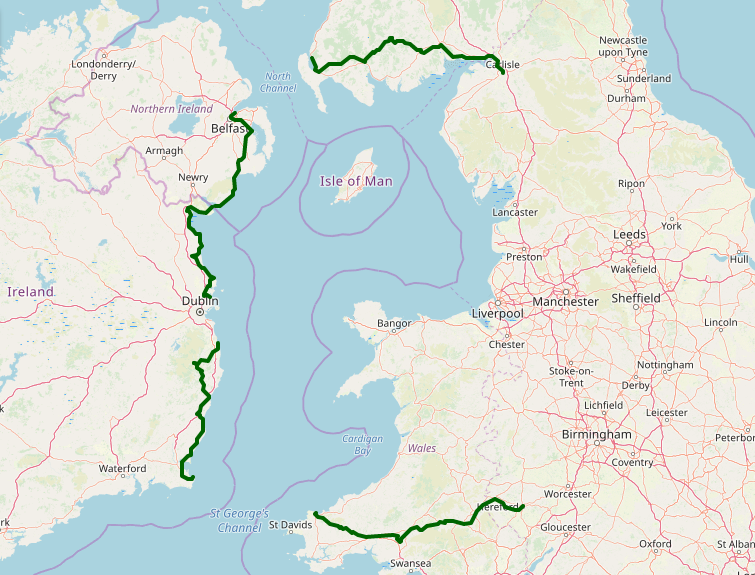 A 7-day ride beginning and ending in England, and travelling through Scotland, Northern Ireland, the Republic of Ireland and Wales.
The idea for the ride came from a friend, Graham, and he put the idea to me and Paul on my Final Munros weekend in 2018. We settled on the last week in June 2019 to do the ride, and booked all accommodation in advance to give daily stages of typically 60 to 70 miles.
Day 1: Carlisle to St John's Town of Dalry (65 miles)
Paul and I travelled with our bikes on the train from York to Carlisle (via Newcastle), where we met Graham who had come up from Coventry. The weather forecast for our first day was not promising, with heavy showers forecast, but at least the east wind would be helping us.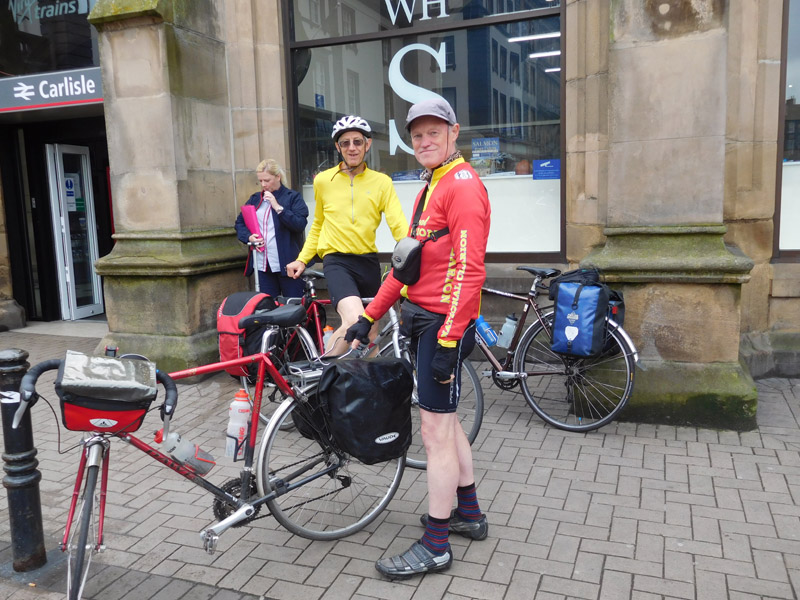 We set off cycling at 10:45, using minor roads via Rockcliffe to reach the Scottish border at Gretna. Here we turned west, and followed B roads and minor roads through Eastriggs, Annan and Bankend to Dumfries, where we called in at Subway for some lunch.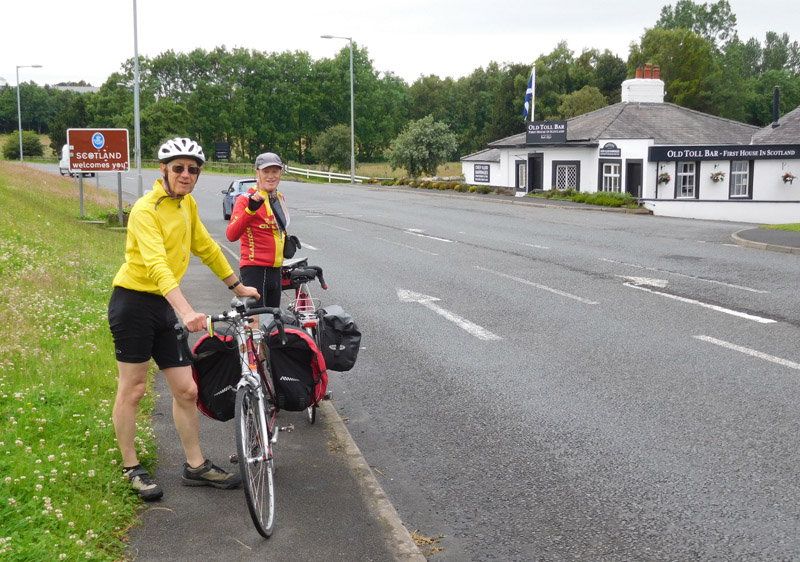 After lunch there was a 20 minute delay as Paul couldn't find the key to his bike lock. After going through most of his belongings he eventually found it, and we continued cycling through Milton and Crocketford, where we joined the A712. It was easy cycling with the wind behind us, the road was not too busy, and we were lucky enough to miss all the showers.
On arrival at St John's Town, we checked in to the Brookford B&B, got showered and changed and then walked down to the Clachan Inn for food and beer.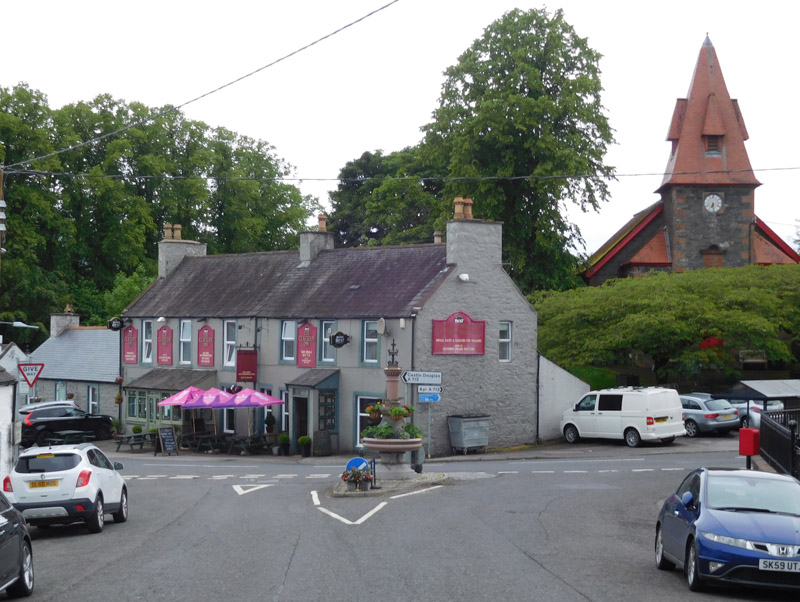 Day 2: St John's Town of Dalry to Cairnryan (52 miles); Ferry; Belfast to Castle Espie, Co Down (17 miles)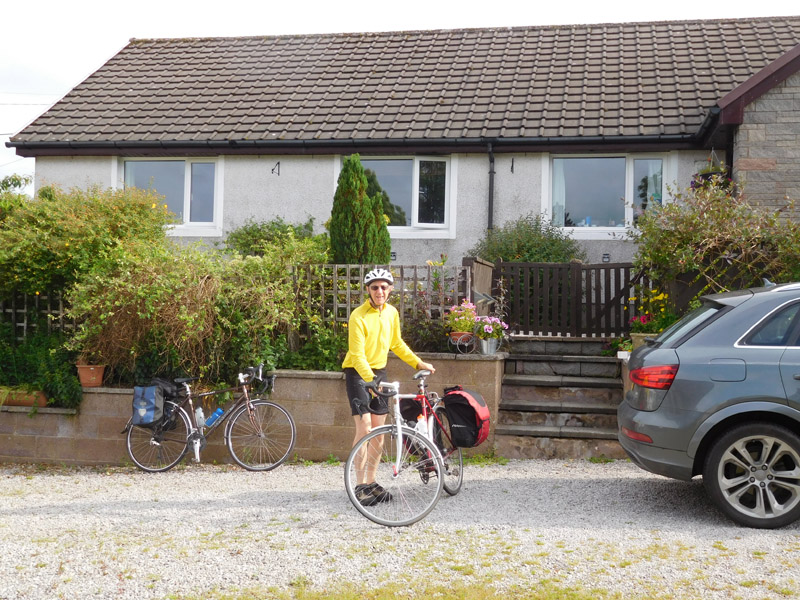 Our B&B did an excellent breakfast, with enough vegan options to satisfy Paul, and we were on the road by 8:45. From Glenlee we had an uphill stretch on a minor road to get us warmed up, then descended to the A712 which we followed most of the way to Newton Stewart. The weather was fine but mostly cloudy, and again we had a favourable east wind.
We had a café stop in Newton Stewart, then continued northwest on the B7027 before turning off onto a quiet, undulating road across the remote Galloway countryside towards New Luce. This road provided some excellent cycling, even though we had to watch out for potholes in places. At Castle Kennedy, Graham and I decided to have lunch at the castle, while Paul made use of the food supplies he was carrying with him.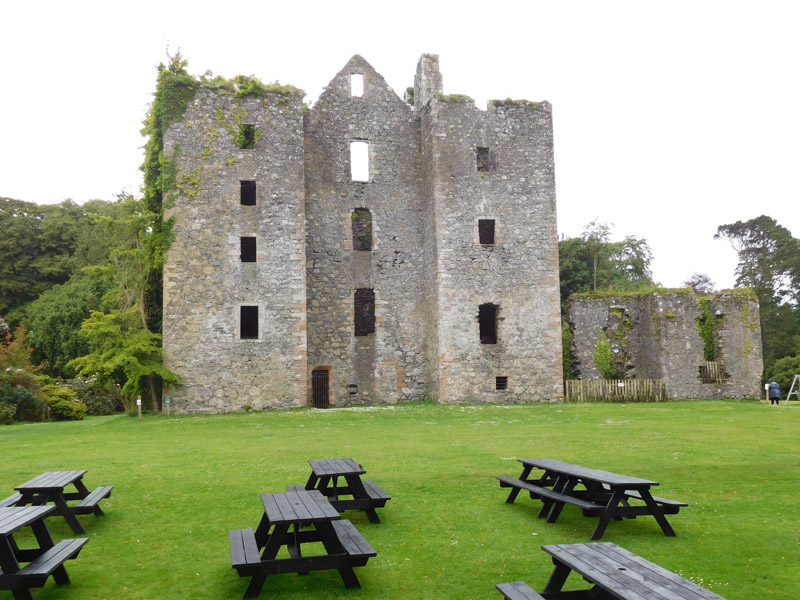 The road onwards to the ferry terminal at Cairnryan was busy with heavy lorries, and although parts of it had a separate cycle lane, the last few miles didn't and it was a relief when we reached the Stena terminal. The Belfast ferry "Stena Superfast VII" left punctually at 15:30, with our bikes stored in a room on the car deck. There was another cyclist on board, Robert from Huddersfield, who was going to spend 3 weeks cycling in Ireland before heading home via Holyhead. The 2¼ hour crossing was quite calm.
We found a quiet route in to the centre of Belfast, and chose a restaurant "Buba" in St Anne's Square, as it had plenty of veggie options for Paul and Robert.
We parted with Robert, then cycled across the river into the loyalist East Belfast district, where almost every house was adorned with Union and Ulster flags. From here we took the Comber Greenway, a good cycle track along the course of an old railway. The final few miles from Comber to the Old School House Inn were along a minor road. On arrival, we were provided with tea and biscuits before settling down for an early night.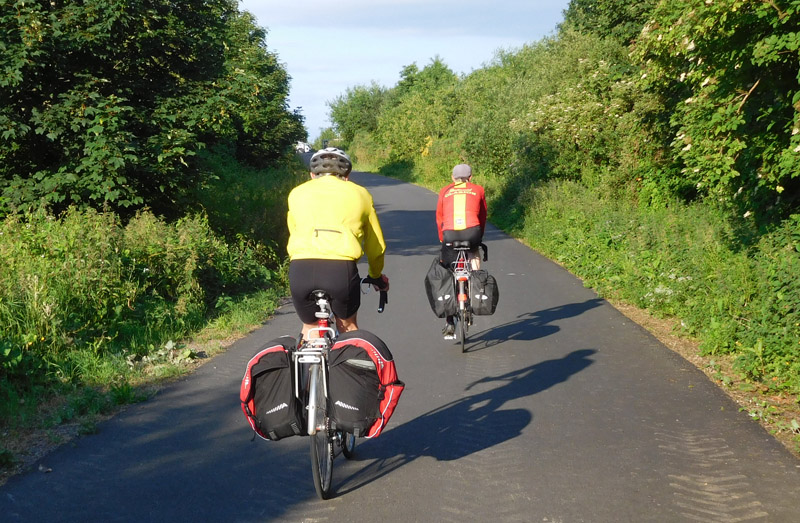 Day 3: Castle Espie to Greencastle (44 miles); Ferry; Greenore, Co Louth to Annagassan (28 miles)
After another hearty breakfast, we were almost ready to start just after 9 o'clock, but Paul had managed to lose his key to his bicycle lock once again. His lock was securing his and Graham's bike together. The three of us spent an hour scouring the grounds, the lounge and the bedroom hunting for it, while Paul emptied his panniers and went through all his clothes and belongings. The B&B owners borrowed an angle grinder from a neighbour, and were ready to begin cutting through the lock when Paul found the key in a trouser pocket.
We got going at 10:20, taking minor roads through Lisbane, Darragh Cross and Crossgar to Loughinisland. From here we were on main roads to Dundrum, and although fairly busy with traffic we decided to stick with it, as it was the shortest route.
We had lunch in the Blue Bay café, the "best café in Co Down 2017", according to a banner on the outside. Our route continued through the busy seaside resort of Newcastle, then along the coastal road to Kilkeel, and gave us great views of the Mourne Mountains. We arrived at Greencastle in good time for the 3 o'clock ferry.
The ferry operates across the mouth of Carlingford Lough, connecting County Down in Northern Ireland with County Louth in the Republic. Despite its international status, there are no border formalities, and we just wheeled our bikes on board and paid the £4 (or €5) fare. There was another group of cyclists aboard, from a club in Dundalk. The crossing took 20 minutes.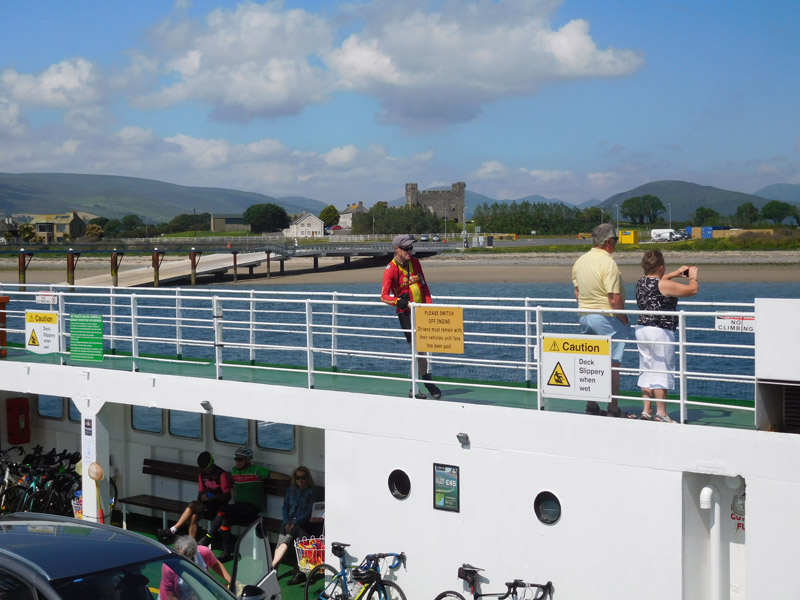 The final leg of the day took us through Dundalk and Blackrock to the small village of Annagassan, where we were booked in a family room at the Glyde Inn.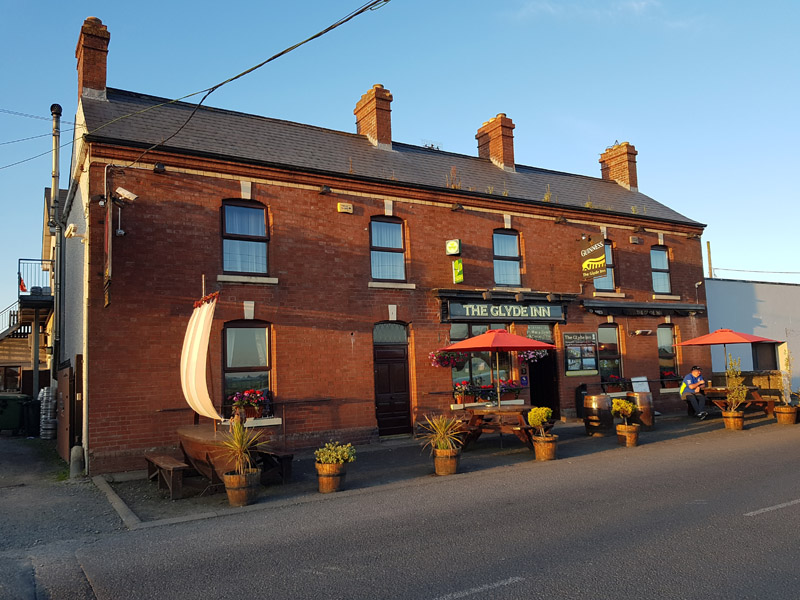 We finished the day with a good meal in the pub (although Paul was disappointed by his vegan dish), and live music in the bar.
Day 4: Annagassan to Malahide (44 miles); DART; Greystones to Glendalough, Co Wicklow (21 miles)
Today we had a beautiful sunny day, not too hot and the wind yet again behind us, so it made for some excellent cycling. We headed south from Annagassan, along the coast at times, through Clogherhead, Termonfeckin, Baltray and then alongside the Boyne Estuary to Drogheda.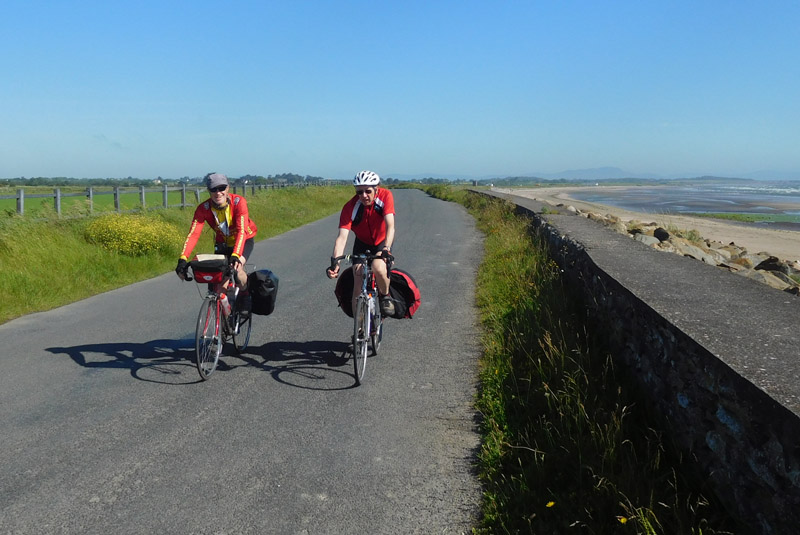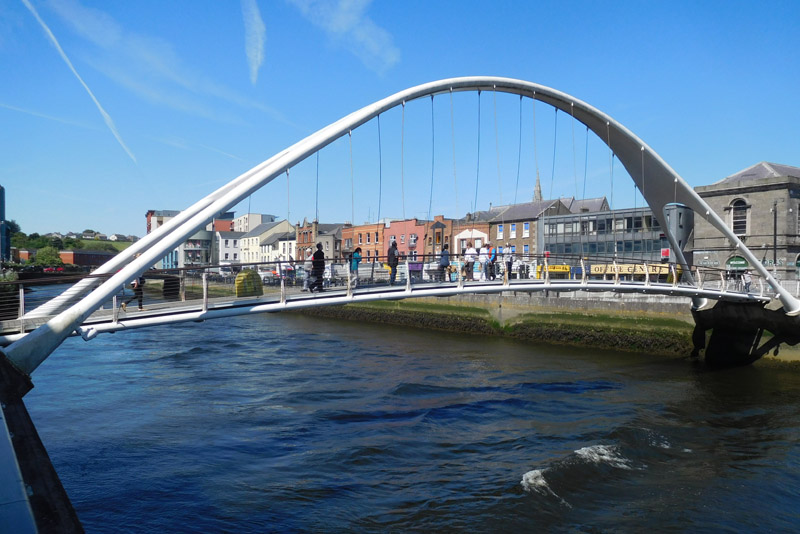 After a café stop we returned to the coast at Balbriggan, followed it down to Skerries then turned back inland, bypassing Lusk and arriving in Swords at a suitable time for lunch. We were getting into the northern suburbs of Dublin and some of the roads were very busy.
We had lunch in the Grill House, a Lebanese and Mediterranean style snack bar on the northern edge of Swords. Then we cycled east for a few miles to Malahide station to catch the DART across Dublin to Greystones. This had always been part of the plan, to avoid cycling through the centre of Dublin, and bikes are carried free on the DART trains outside the rush hours.
From Greystones station we headed in a southwesterly direction, inland towards the Wicklow Mountains. This meant that some hills were involved, but nothing too strenuous. When we saw the restaurant Lynam's of Laragh, Graham and I decided we would have our evening meal here, while Paul continued to our overnight accommodation at Glendalough Youth Hostel to cook a vegan dish for himself.
Once we had established ourselves in the hostel, Graham and I went for a walk in the evening, along the glen to the Upper Lake and back down past the old cathedral and burial ground.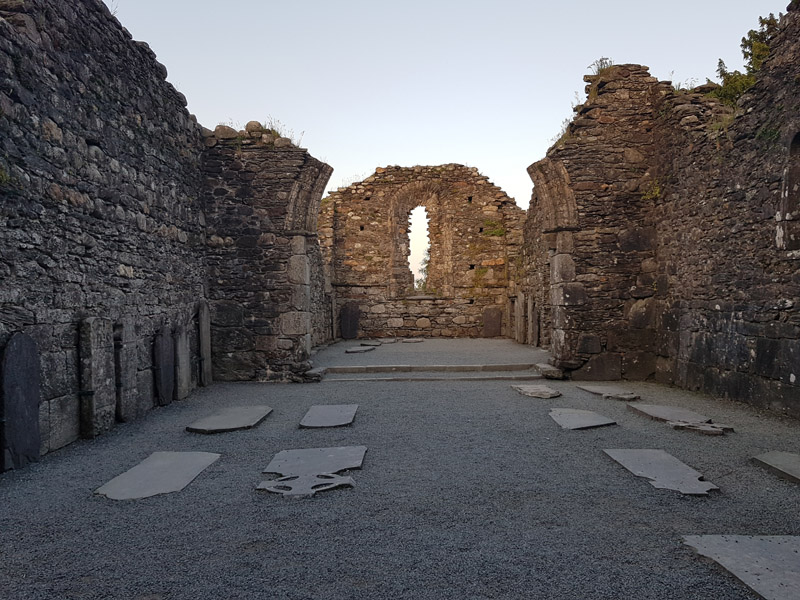 Day 5: Glendalough to Tagoat, Co Wexford (71 miles)
Although the hostel provided an optional breakfast, it wasn't served until 8:30 and we thought that was a bit late, so we left earlier and called at the shop/café at Laragh, where we could get sandwiches and hot drinks. We began with some pleasant cycling through rolling landscapes via Rathdrum, Avoca and Woodenbridge to reach Arklow, where we paused for refreshments at the popular Blue Café.
The next stretch was quite short, to Gorey, where we cycled up and down the busy Main Street before settling on the Spoonita café for lunch.
Our route onwards took us to the coast at Courtown, where we stopped briefly to admire the harbour. Then we continued south through Ballygarrett, Blackwater and Curracloe, where I got a puncture in my back tyre. I replaced the inner tube and we got underway again, only for the tyre to go flat again a few miles further on. Another inner tube, and this was OK so we were soon in Wexford, where we stopped so that Paul could stock up on vegan provisions.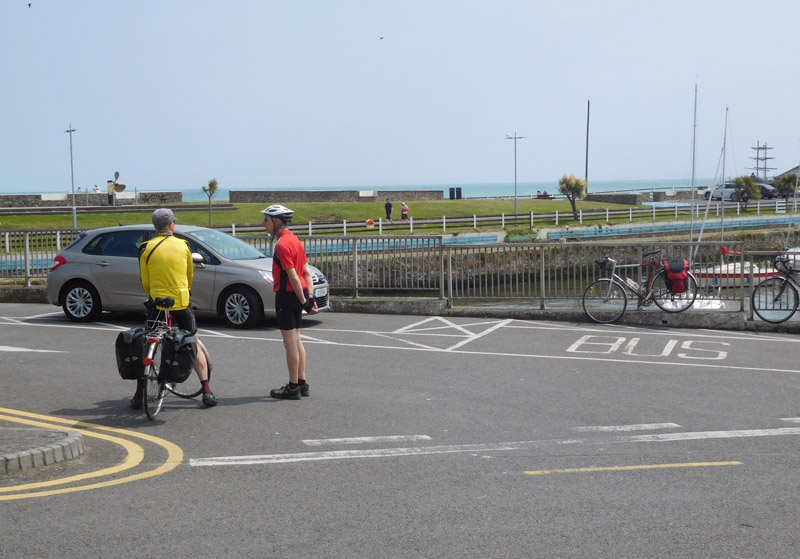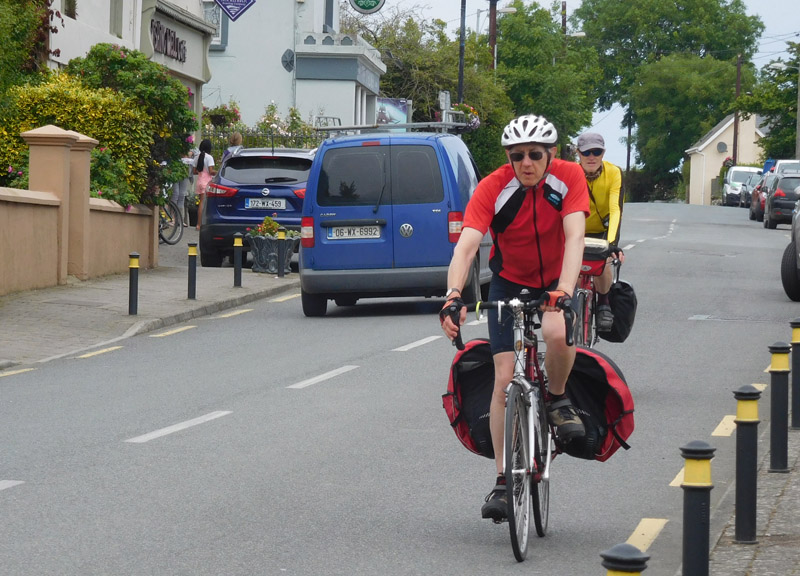 The last leg of the day was on the busy N25, but there was a hard shoulder that we could cycle on for most of the way. We arrived at the Coral Gables guesthouse, Tagoat, at 5 o'clock. Cushens Pub and Restaurant was just over the main road, so Graham and I ate there, with Paul making his own arrangements then joining us for a Guinness or two.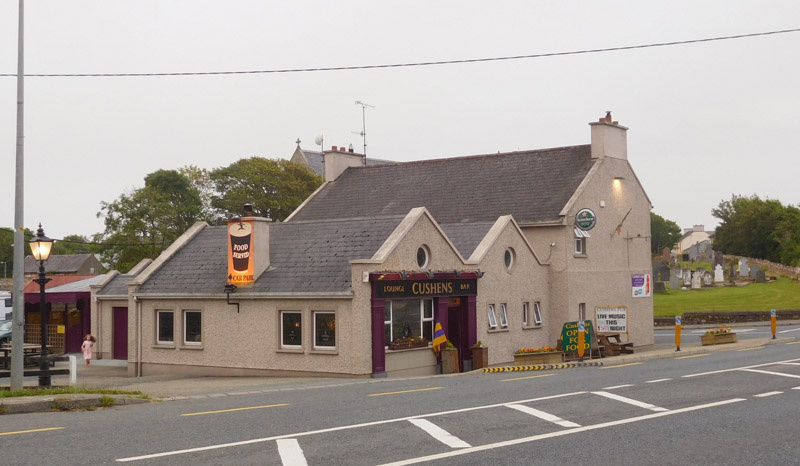 Day 6: Tagoat to Rosslare Harbour (3 miles); Ferry; Fishguard Harbour to Carmel, Carmarthenshire (54 miles)
We had arranged an early breakfast for 6:30, then set out on the short 3-mile ride to Rosslare Harbour ferry terminal. "Stena Nordica" took us back across the Irish Sea, departing at 8:00 and arriving at Fishguard on time at 11:30.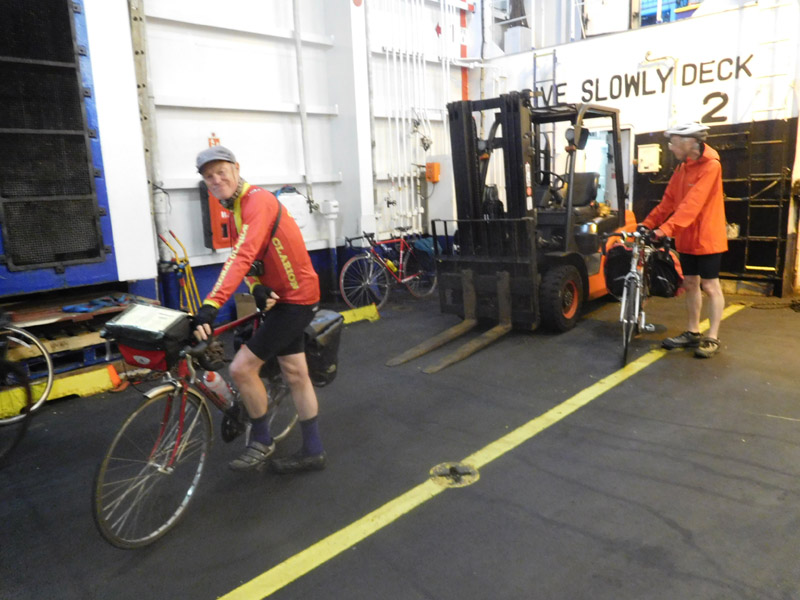 We called at Tesco to buy sandwiches for lunch, then cycled eastwards into the hilly South Wales countryside for a few miles, stopping near Rosebush to eat our lunch.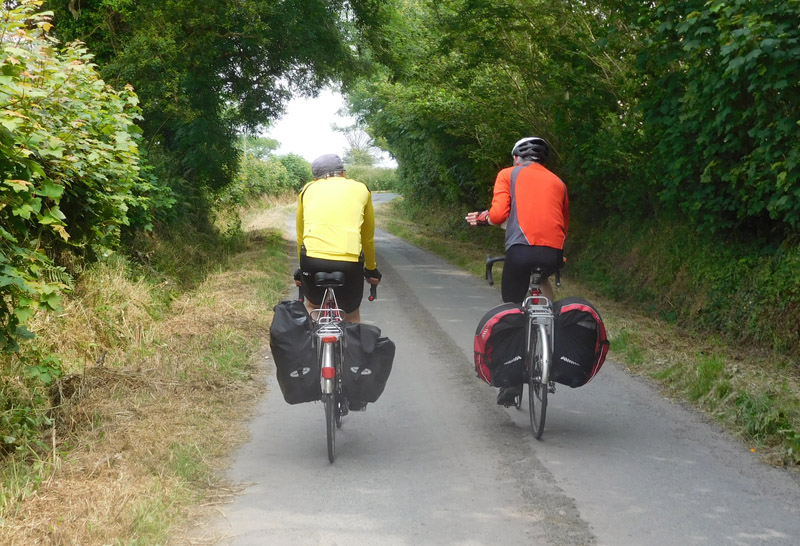 As we progressed further east, it was clear that we were going against the grain of the landscape, where numerous valleys ran from north to south. We would have an exhilarating run down into each valley, then an exhausting climb back out the other side. We were ready for a break when we reached Carmarthen, so we called in at Alleyway Coffee just off Guildhall Square.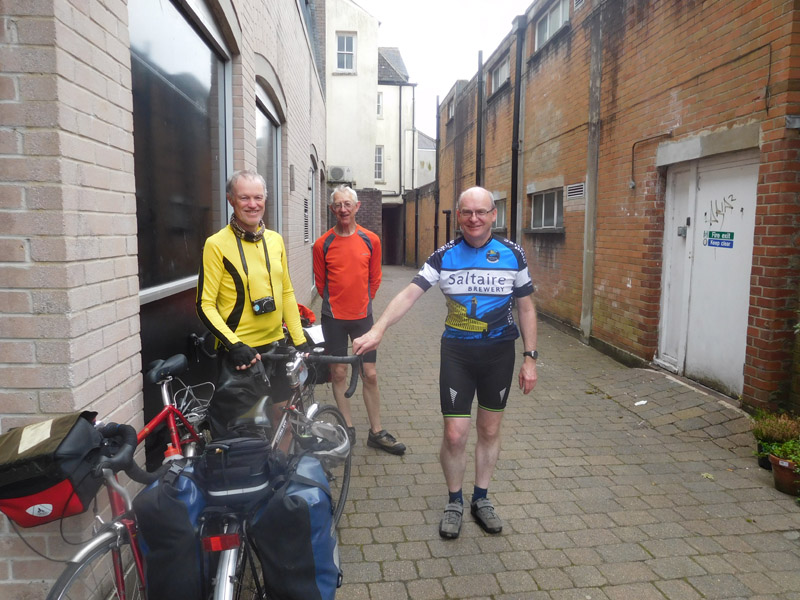 Onwards from here it was quite easy going at first, following the River Towy, but there was a sting in the tail. To reach our overnight stop we had to turn south, which gave us a long, hard climb out of the valley. We then missed a turning and started dropping down the other side, but fortunately not too far before we realised our error. We turned back and had to regain some height before arriving exhausted at the Stag & Pheasant Inn, Carmel. Today had been the shortest cycling distance, but was certainly the toughest stage of the whole tour.
Day 7: Carmel to Hereford (80 miles)
After a hearty breakfast, the cycling began with an exhilarating run back down to the Towy Valley, then we followed the valley on a minor road as far as Bethlehem. We then headed away from the river, climbing gently and following the A4069 for a short distance before turning off towards Twynllanan. Here, Paul and I realised that we had lost Graham, and on phoning him we found that he had missed the turn off the A road and was heading up towards the Black Mount.
To make things worse, Graham no longer had a map (he'd given his copy to Paul), and after a few failed attempts at describing where we were and how he could reach us, Graham agreed to make his own way to Brecon and we could meet up again there.
The route climbed up, mostly gradually but with the odd steep section, and ran along the moors to the north of the Black Mount. A bit of light rain fell on this stretch, the first we'd had all week, but it helped that the wind was yet again behind us. We dropped down to cross the River Usk at Trecastle, then took the busy A40 for a few miles to Sennybridge before taking the minor road on the north side of the Usk to reach Brecon.
Paul and I found a café, and not long after we'd ordered our lunch we had a call from Graham saying he'd arrived in Brecon, and within a few minutes he had re-joined us. It was no longer raining and we were able to sit outside to eat our lunch.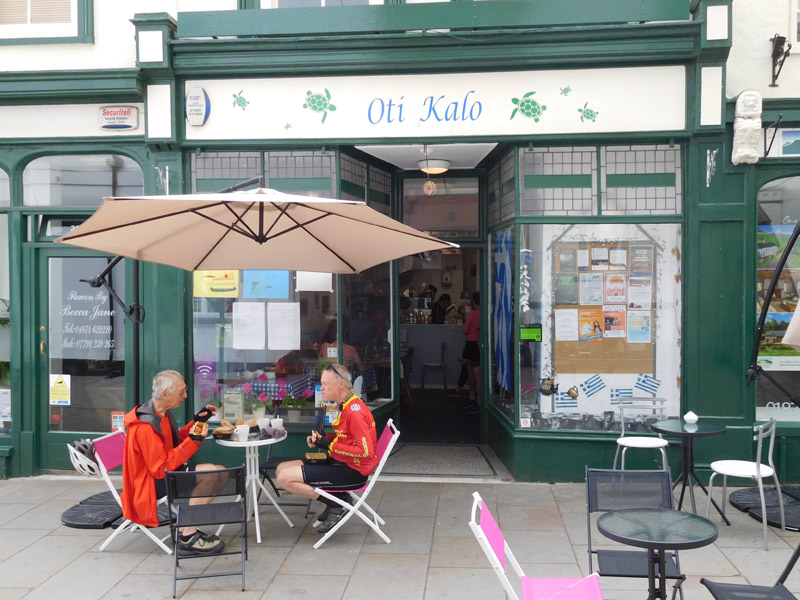 The next leg took us on gently undulating roads to Talgarth and Three Cocks, from where it was an easy ride along the Wye Valley to Hay-on-Wye, where we stopped at the Granary Café for refreshments.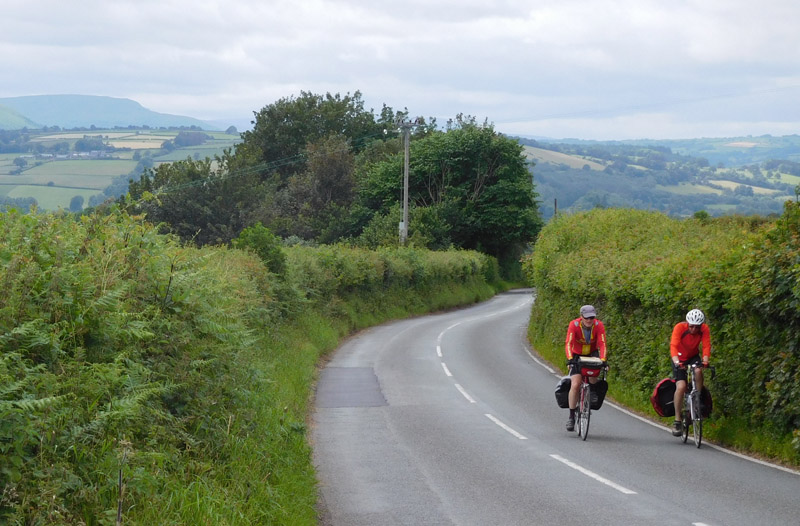 For our final leg to Hereford we used quieter roads on the south side of the Wye, although the final stretch into the city was on busy main roads. We arrived with a couple of hours to spare before our trains home, so there was time for a celebratory meal and drink. The first pub we chose turned out not to be serving food that day (and was rather noisy anyway) so we settled for the Wetherspoon's, which had the advantage of being close to the station.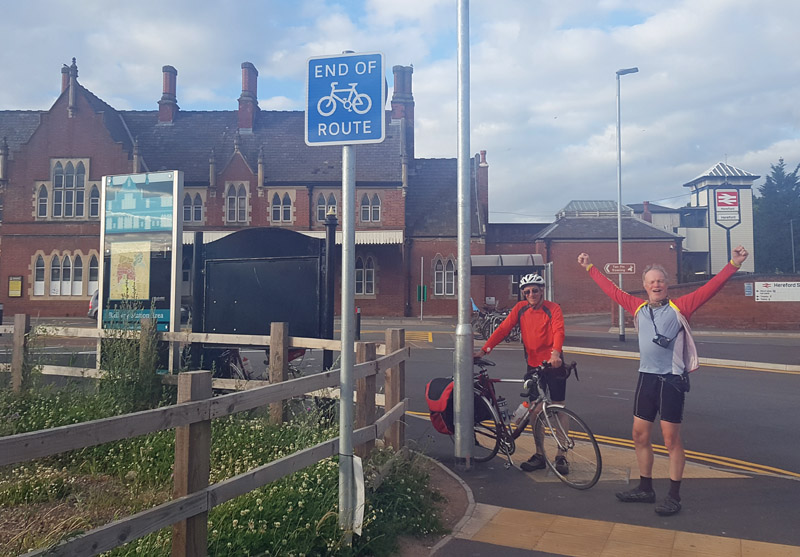 Finally, we rode to the station and boarded our respective trains. Paul and I arrived in York at about midnight. It had been a really good ride with lots of interest, good weather and remarkable luck with wind directions, which were pretty much behind us on every stage.