Trans-Siberian No.3
My third journey on the Trans-Siberian Railway, this time going all the way to Vladivostok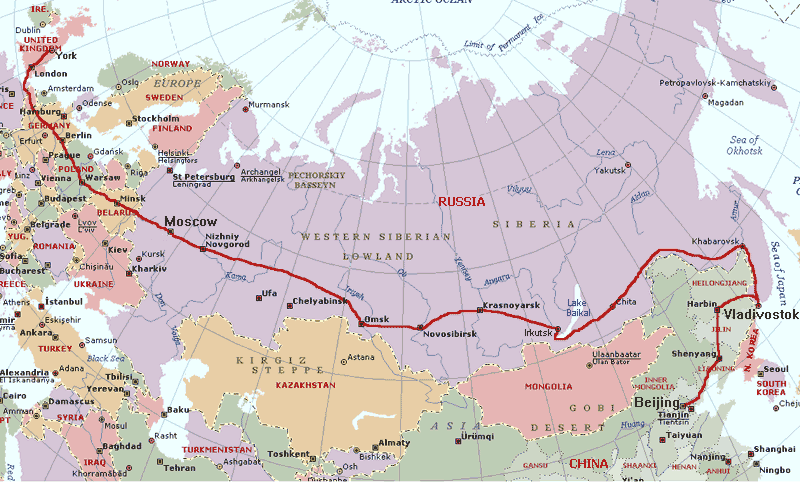 Most people living outside Russia or China probably think of a journey on the Trans-Siberian Railway as a once in a lifetime experience. In July 2006 I made my third journey along this famous route, travelling its full length to the terminus at Vladivostok.
The idea for making this journey came from a friend, Tim Calow. Tim's brother Roger was working in China during 2006, and Tim's family decided they would visit China to see Roger and his family during the summer. Tim, being a keen railway enthusiast, fancied going by train, and knowing that I had some experience of such journeys, he approached me to see if I might be interested. I had already travelled by train from England to Beijing by both of the conventional routes, the Trans-Manchurian (in 1988) and the Trans-Mongolian (1997) and I didn't want an exact repeat of either of those journeys. Whilst the two routes mentioned use the Trans-Siberian Railway for about two-thirds of its length, I had for many years wanted to "finish off" the Trans-Siberian by going all the way to its eastern terminus at Vladivostok, and I saw this as an opportunity to do just that.
I had a vague idea that it was possible to travel southwards from Vladivostok into China, and early in the year I bought a copy of the Thomas Cook Overseas Timetable to check whether it really was possible. I found that there were, in theory, two routes, one via Pyongyang in North Korea, and the other via Harbin. The Pyongyang route looked interesting, but I never really considered it as a serious option, due to the difficulties in arranging independent travel in North Korea. In any case, a bit of research on the internet informed me that the train from Vladivostok ("weekly, days of operation vary", according to Thomas Cook) was no longer running, so it would have to be via Harbin.
We planned our itinerary so that we travelled on the "Rossiya", the prestige train which does the Moscow to Vladivostok journey in seven nights (six days). It runs every two days, and we decided that we would break our journey in the Irkutsk/Lake Baikal area and join the next service two days later. A third friend, Bill Bird, joined us for the journey, although he flew to Moscow whereas Tim and I travelled all the way from England by train. We used the services of travel specialists Steppes Travel to book all the trains, hotels and transfers in Russia and China.
For a full account, with photographs, click on the following links:-

| | |
| --- | --- |
| | York to Moscow |
| | Trans-Siberian: Moscow to Vladivostok |
| | Vladivostok to Beijing |