Trans-Siberian No.3 Part 1: York - London - Moscow
Friday 7th July, 2006
| | |
| --- | --- |
| | The journey begins: York Station. |

For me, the journey began at York Station, on the 8 o'clock train to London. At King's Cross I met Tim, who had stayed in London overnight. We had allowed plenty of time to get to Waterloo for our Eurostar, as today was the anniversary of the London tube bombings, and there was the risk of further bomb threats causing travel disruption. In the event, there was no problem, although there was a heavy presence of police with sniffer dogs at King's Cross. We had enough time to walk across London to Waterloo, calling in at Stanford's travel bookshop on the way.

The 12.40 Eurostar took us to Brussels, an uneventful journey and one I have done many times before. We had time for a beer in a café just outside the Gare du Midi,

and returned to the station for the 17.28 "Thalys" service to Cologne. We had nearly two hours in Cologne, and we left the station to look for somewhere to eat. We walked around the cathedral area and chose the Chicago Steak House, despite its unappealing appearance, because it was almost empty and we thought we might get served quickly. We were wrong, and it was ages before our meals were served, which were OK but unremarkable.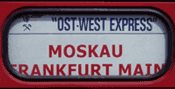 Our next train was the "Jan Kiepura" service which operates daily between Frankfurt and Moscow, taking two nights. As it pulled into Köln Hauptbahnhof with its Russian and Polish sleeping cars, I finally had the sense of travelling to somewhere exotic.
We stayed awake for the first part of the journey through Northern Germany, and settled down after midnight. I didn't sleep well, and at one point when we were moving slowly I looked out to see that we were passing through the centre of Berlin. We were disturbed at 3.30 in the morning by the border formalities at the Polish border.
---
Saturday 8th July
| | |
| --- | --- |
| | The train to Moscow at Warszawa Wschodnia station |
The train arrived at Warszawa Wschodnia (Warsaw East) at 9.12 and was scheduled to stop here for over an hour, which gave me time to leave the train, change some euros to zlotys and buy some food and water. Just as in 1997, there were no catering facilities on the train, but this time we made sure we had enough to last us until we reached Belarus, where we expected a restaurant car to be added. It was warm and sunny.
We followed our progress across Poland on our maps, and as the next international border approached we were handed customs declarations forms, which were in Russian only. We made a brave attempt at understanding them with the aid of a phrasebook and dictionary, but gave up and asked for help in the next compartment. This was occupied by a Belarussian girl and her German boyfriend, and they were happy to help us. The girl was returning home for the first time in 3 years after moving to Germany.
At the Polish border station, Terespol, our passports were collected and taken away by the border officials. The train stopped here for longer than booked, but eventually restarted, with a Polish diesel locomotive taking us the short distance to Brest. This section across the border between Poland and Belarus is the only unelectrified part of the route between York and Vladivostok.
At Brest, the train was shunted into the bogie changing shed, where it was raised on jacks. The standard gauge bogies were wheeled away and broad gauge bogies placed in position, then the coach bodies were lowered back onto them. I found this procedure as fascinating as ever, despite having experienced it a few times now, and it was all new to Tim, who had not previously travelled beyond Poland. Things have become more relaxed over time: in 1988 nobody dared take any photographs; in 1997 I took some photographs discreetly from the train; in 2006 people were wandering freely around the shed taking pictures (but no doubt that will stop when Health & Safety arrives in Belarus). We handed in the customs forms and got our passports back.
We left Brest 46 minutes late. Additional coaches had been added to the train, and shortly after departure I went in search of the restaurant car. I found it 13 coaches further down the (mostly empty) train, and bought some beers to take back to the compartment. Later in the evening we both made the trek to the restaurant for dinner, and had quite a decent meal - I had salad, solyanka (soup) and salmon & chips, for 20 Euros including drinks. We bought some more beer to take back with us. I slept well, and there was no interruption at the Russian border as our Russian visas had already been stamped at Brest.
---
Sunday 9th July
We woke up in Russia, to another bright and sunny morning. Initially we thought we were some way off Moscow, then we remembered to put our watches forward an hour, which meant that we were quite close. We used our own food reserves for breakfast (muesli bar). Arrival at Moscow's Byelorusskiy station was at 10.05, 45 minutes late.
| | |
| --- | --- |
| | On the platform after arrival at Byelorusskiy Station in Moscow. |
After taking some photos, we found the metro station and bought tickets, using the few roubles I had saved from my last trip to Russia. We took the metro to Kievskaya, and had a look around the impressive main-line station there. It took us a while to get our bearings and work out how to get to the Ukraina Hotel, but it was only a short walk once we had worked out the direction.
The Ukraina is a huge hotel, built in the "Stalinesque" style, and our room was on the 22nd floor with a view to the west of the city. After showering, we had lunch in the hotel restaurant, and this confirmed something that I had read: that Moscow is now one of the most expensive cities in the world. A caesar salad, bliny (pancake, as dessert), mineral water and coffee came to Ł17 each. These were London prices but without the quality.
We had an afternoon nap while waiting for Bill, the third member of our group, to arrive from the airport. He arrived on time, and we then headed for the centre of Moscow by taking the metro to Revolutsii Ploschad. This was a short walk from Red Square, where St Basil's Cathedral looked fine in the evening sunlight. We continued walking to Arbat, Moscow's most famous street, and chose a restaurant with outdoor tables for our evening meal. My main course was translated as "Magic Tablecloth", and was quite good, and certainly better value than our hotel lunch, though still not cheap. We had planned to move on to a bar with a TV screen to watch the World Cup Final, but stayed too long at the restaurant and missed the first half. Walking down Arbat, we gathered that it was 1-1 at half time, and went into the Hard Rock Café for dessert (cheesecake) and the second half. An interesting beer on the menu was Марстен Ойстер Стаут [needs Cyrillic fonts to display properly]. There were no more goals in the second half, or in extra time, but there was the infamous Zidane head butt, after which France no longer deserved to win, even though they played the better football. Italy won 5-4 on penalties.
Walked back to the hotel.
| | |
| --- | --- |
| | St Basil's Cathedral in Red Square, Moscow |
---
Monday 10th July
Today we had arranged to meet up with a friend, Sasha, whom Bill and I had met on previous trips to Russia. Together with Sasha's son Andrey and daughter Anya, we caught the 9.10 train from Moscow's Yaroslavskiy station to Sergiev Posad, about an hour's journey.
The main attraction of Sergiev Posad, formerly known as Zagorsk, is its monastery. We walked round in the sunshine, admiring the ornately decorated buildings. It was a hot and sunny day, and there were many visitors.
| | |
| --- | --- |
| | The monastery at Sergiev Posad |
We had lunch in a restaurant, than caught an afternoon train back to Moscow. Sasha suggested visiting the railway museum at Rizhskaya, so we took the metro there, only to find that the museum had closed an hour earlier. We were then caught in a thunderstorm, and had to shelter from the torrential rain in a doorway. Sasha managed to flag down a "taxi" (actually a private car offering unofficial taxi services, common practice in Moscow) which took us to his flat in the southern suburbs. We met his wife Luda, and had a meal of solyanka (delicious), cold meats and salad. Sasha showed off his collection of model trains, and we showed some photographs of home. We returned to our hotel by (licensed) taxi, arriving just after midnight.
---
Tuesday 11th July
We had a late breakfast, then packed and checked out of the hotel, but left our large bags at the hotel to be collected later.
We decided to revisit the railway museum, so took the metro to Rizhskaya. On the way, Bill was the victim of a pickpocket, and lost his wallet containing cash and the hotel luggage receipt. When we got to the museum, we found it was closed, and a with the help of a phrasebook we established that it was closed on Mondays and Tuesdays.
| | |
| --- | --- |
| | The ornate interior of Komsomolskaya station on the Moscow Metro |
It was turning out to be another hot and sunny day, and we decided to walk to Yaroslavskiy station, where we had arranged to meet Sasha again. We paused in a small, scruffy park to eat an ice cream. Sasha had arranged for us to be interviewed by someone from the Russian Railways' on-train magazine, and this took place at the offices of Gudok, a Russian railway newspaper. We rashly agreed to write an article about our Trans-Siberian journey after we got home. Maybe one of us will write it some day.
Sasha then walked with us to a Ukrainian restaurant, which he recommended. He left us there, as he had to get back to work (he now works for Russian Railways), but we had a good meal there. It would be our last stationary meal for a few days.
We returned to our hotel to collect our luggage (there was no problem despite having lost our ticket) and to take our pre-arranged transfer to the station. A minibus turned up, with driver and guide, and we were taken to Yaroslavskiy station (with which we were becoming quite familiar) and issued with our tickets. (continued in Part 2)
---

|

|

|