The Big Red and Yellow Train Ride Part 1: York - London - Moscow - Beijing
Friday 14th March, 1997
I went to work as usual today, as I was pushing my annual leave entitlement to the limit, having already had a week off to visit Greece in February. At 16.00 I returned home, got changed, picked up my rucksack (which I had already packed) and got a taxi to the station. I caught the 17.21 GNER train to London (King's Cross) and met up with Jim McGrath and Dave Downer as arranged at Waterloo. We checked into the Wellington Hotel, and had a couple of pints there before going in search of food. A nearby café provided plaice, chips and mushy peas, then we had some more drinks at the King's Arms, before returning to the hotel.
---
Saturday 15th March
We were up early, and caught the 6.53 Eurostar service to Brussels. The fourth member of our party, Andrew Gainsbury, joined the train at Ashford. From Brussels we caught the 12.07 to Köln (Cologne) and Bill Bird was waiting to meet us on the platform. We had a wander outside the station, and found a bar which served a very good late lunch (I had pork with onions and tomatoes), whilst Bill showed off his new camera, a Nikon F5 (very expensive).
Our next train was the 17.10 to Hannover, and on arriving here we went into the town centre, found a bar and had another good meal. We thought we had better take the opportunity to eat well while we could.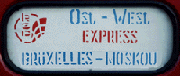 Back at Hannover Hauptbahnhof we boarded the 23.10 train to Moscow, the 'Ost-West Express' . This train comprised new Russian Railways (RZD) sleeping cars in maroon and grey livery, which I had not seen before on previous trips to Europe. It was very smart inside, but a bit cramped. I shared a compartment with Jim and Andrew. I didn't sleep well - I rarely do on the first night on a train. We did get a good view of comet Hale-Bopp from the train, as we travelled through eastern Germany.
| | |
| --- | --- |
| | 103 206 at Köln Hauptbahnhof, with train EC47 "Alexander von Humboldt" from Brussels to Berlin. We had travelled on this train from Brussels. |
---
Sunday 16th March
We got out of the train during the station stop at Warsaw Wschodnia (East). It was bitterly cold, and there were some snow showers. There was no restaurant or buffet car on the train until we crossed the border into Belarus at Brest later in the afternoon, so until then we had to rely on the snacks we had brought with us. At Brest, local women gathered round the train doors selling beer, apples, sausages etc, so we bought some beer ($1 per bottle) and a bottle of vodka ($4). At Brest, the train has to go into the bogie-changing shed (with passengers still on board), where the coaches are jacked up and the standard-gauge bogies (1435mm or 4ft 8½in) are replaced by Russian broad-gauge ones (1524mm). This is a fascinating procedure which takes over an hour.
Once we were on the move again, we made our way to the Belarussian restaurant car which had been added to the train, and had a surprisingly good dinner, the main course of which was Chicken Kiev (shown as 'Kiev's Chop' on the menu). Payment was made in US dollars. Later in the evening the train called at the capital, Minsk, where the station stop was long enough for us to have a stroll on the platform. It was very cold, with a layer of snow on the ground.
| | |
| --- | --- |
| | The ornate station building at Brest, Belarus. For more pictures at Brest click here. |
---
Monday 17th March
We had a snack breakfast again. Outside, the heavily-forested Russian landscape was white with snow.
We arrived at Moscow at 10.34 (1 minute early) and we were met on the platform by the remaining three members of our group, Brian Addis, Sandra Dean and Ian Briggs, who had flown out to Moscow. We were collected by a minibus which took us to our hotel, the Hotel Belgrad. This is the same hotel that Bill and I had stayed at in 1988, but it had been renovated since then, and I was in a nice room on the 13th floor. We had a very good four-course lunch at the hotel.
In the afternoon, we walked down Arbat to the centre of Moscow, and visited Red Square and the Kremlin. We had a friend of Brian's, Sasha, as guide. We had dinner in Pizza Hut (well, it's reliable) and then as it was St Patrick's Day we decided to visit an Irish bar. There were three in Moscow to choose from, and we opted for the Shamrock Bar because it was within walking distance of the hotel. There was an Irish band playing, but not many Irish customers. Guinness was about £3.50 per pint, much dearer than at home, but that didn't stop us drinking it. And as for me dancing with a Russian woman, I'd better not say any more.
| | |
| --- | --- |
| | One of the cathedrals in the Kremlin |
---
Tuesday 18th March
After breakfast we moved all our luggage into one room, as the transfer bus to the station did not leave until the evening. Today we used the Metro to get to the centre of the city. It is a very efficient system, with some impressive architecture at the stations, which are all very spacious. The entrance barriers are operated by plastic tokens which can be purchased for 1500 roubles each (about 17 pence). In 1988 it had cost 5 kopeks per journey, which was 5 pence at the then exchange rate of 1 rouble = 1 pound sterling (it's now 8800 roubles to the pound).
During the day, where the temperature remained at around -6C, we visited an open-air museum of statues (including a fallen one of Stalin), Gorky Park (where there were very few people about), market stalls at Sokolniki, Novodevichy Monastery, then walked back along the river to the hotel.
Back at the hotel, the room with all the luggage now had an elderly man laid out on the bed. We thought he was a tramp who had walked in from the street, but it turned out he was a Glaswegian who was also booked on the train to Beijing. After a disappointing dinner, we were taken by bus, along with several other Trans-Siberian tourists, to the Yaroslavski station where the train was waiting, surrounded by much human activity on the platform as passengers loaded their luggage and well-wishers made their farewells. Before departure, Jim and I were dispatched to stock up with refreshments, and returned with 30 bottles of beer from a station kiosk.

Departure was at 19.55, and we settled down on the train which would be our home for the next six days. Actually, we didn't quite settle down, we had a party with three Danish students and a French couple, so we drank all the beer and a fair amount of vodka as well.
| | |
| --- | --- |
| | Open-air market, Sokolniki, Moscow |
---
Wednesday 19th March
After an alcohol-assisted night's sleep, we arose and went to the restaurant car for breakfast at 9.00. Our tour package included set meals on the train while the train was in Russia, but the times for the meals were fixed, and notified to us at the previous meal, always in Moscow Time, which gets more adrift from local time as we travel east. Breakfast today consisted of bread and cheese, hard-boiled egg and rice pudding. During the morning the train made stops at Kirov and Balyezino. The station stops are usually about 10 or 15 minutes, and intervals between stations are probably 2 to 3 hours on average. There is time to get out onto the platform to stretch your legs or buy things from the stalls or kiosks, but it does require putting on warm clothing.
Lunch was a cold meat salad, solyanka (a hearty soup with meat) and sausages. Dinner was braised steak, potato and red cabbage. In between meals and station stops we amused ourselves by playing cards and Scrabble. In the evening we looked out for the obelisk which marks the Europe/Asia boundary, which most of us managed to spot. We celebrated with a beer.
| | |
| --- | --- |
| | Kirov station |
---
Thursday 20th March
Breakfast at 8.00 Moscow Time (10.00 local time): bread and cheese, egg, semolina. Ishim station stop occurred during breakfast, but later in the morning we were able to get out at Nazivayevskaya station. A game of Scrabble was followed by the stop at Omsk, where it was not as cold, and the snow was thawing. Lunch was at 12.00MT (15.00 local time): meat salad, soup, then roast beef with fried potatoes and red cabbage. I listened to some music on my personal stereo in the afternoon. Dinner was at 16.00MT (19.00 local): cold meat and bread, followed by chicken and fried potatoes with red and white cabbage. During dinner we stopped at Barabinsk, but I didn't get out. We stayed in the restaurant car and had a few drinks after the meal, then returned to our compartments for games of Scrabble, with two of the Danes, Peter and Carsten, joining the second one. Later in the evening, the train stopped at Novosibirsk where a temperature display showed zero degrees. Manu (the Frenchman) told us a joke about a counting pig.
| | |
| --- | --- |
| | Scrabble on board the train |
---
Friday 21st March
I got up just before breakfast (6.00MT, 10.00 local), which was cheese (but no bread today) and omelette. We played cards until the station stop at Krasnoyarsk. It was sunny, with a temperature of about 10C, but there was still snow on the ground. Brian decided to wash some clothes in his compartment, which prompted comments that he was turning the coach into a Chinese laundry. The landscape outside the train was becoming more hilly, with hillside villages of wooden houses.
Lunch (10.00MT, 14.00 local) was sardine salad, solyanka, then tasteless sausages with fried potatoes and pink cabbage. The afternoon was taken up with an international game of Scrabble: myself (GB), Andy (GB), Martin (DK), and Manu & Dave (FR/NL). The station stop at Ilanskaya was followed by dinner, then another international Scrabble game.
| | |
| --- | --- |
| | Village east of Shushun |
---
Saturday 22nd March
We got out at Irkutsk station (8.49 to 9.04 local time) where the temperature was around freezing point, then back on board for breakfast, which was bread and cheese followed by three fried eggs. Later in the morning was the stop at Slyudyanka, where enterprising locals were selling cooked fish to train passengers. Lunch on the train was meat salad and soup with pasta.
The train was now running alongside Lake Baikal, which was frozen over. Fishermen were angling through holes cut in the ice, and cars were parked on the ice. To the south were the snow-covered Khamar-Daban mountains. Later in the afternoon the train reached Ulan Ude, where goods were unloaded from the baggage car at the front of our train. We had a look at the boxes on the platform: portable stereos, portable TVs, pears from Chile, tomatoes from the Canary Islands, lemons, kiwi fruit. The people here looked different: many of them are Buryats, ethnically related to Mongols. Ulan Ude is the junction where our train leaves the main Trans-Siberian route and starts heading in a southerly direction. We had dinner while the train climbed towards the Mongolian border, had a few drinks in the restaurant car, then a few games of cards 'back home' in one of our compartments.
There was a long stop of about two hours at Naushki, just before the border, where we had to fill in currency declaration forms, have our passports stamped, and our compartments searched (not too thoroughly). We crossed the border at about midnight then had a repeat performance of needless bureaucracy at Sühbaatar on the Mongolian side, which took another one and a half hours.
| | |
| --- | --- |
| | Diesel locomotive 2TE10U-0283A backing on to our train at Ulan Ude |
---
Sunday 23rd March
I awoke at about 8.00, to see the strange, bleak Mongolian landscape through the window - miles and miles of bugger all. It was fairly flat, but there were some hills in the distance. The sun was strong, but the air was cool and there were pockets of snow in sheltered spots on the ground. There were no trees, only tufts of grass growing in the ground.
The ugly city of Ulaan Baatar, the Mongolian capital, came into view quite suddenly, and we had our first sightings of yurts, the traditional circular tents. Most inhabitants had to make do with featureless concrete blocks of flats. We had a half-hour stop here, and there were people on the platform selling postcards, with stamps already on. I bought two for $1, and quickly wrote one for my mum, but couldn't find a posting box. There was a post office counter on the station, where the woman asked for another dollar, while pointing at a sheet of stamps. I assumed that there were not enough stamps on the card for a postcard to England, so I gave her a dollar and she gave me another postcard back (as change?).
Back on the train we had a hot drink and some biscuits, while we debated whether to see what the Mongolian restaurant car could offer us. Andy was keen to go, I was willing to give it a try, and Bill and Dave were eventually persuaded to join us. I had a perfectly acceptable onion omelette and a cup of tea for $2.50.
The railway route takes a huge S-bend out of Ulaan Baatar to gain height, and we reached a plateau where there was mostly nothing, but occasional settlements of yurts and a few brick buildings. There were horses to be seen, and a few camels, but no cars. There was a station stop at Choyr, a small town with no traffic on the streets. It seemed very quiet and eerie.
After the favourable report from the restaurant car at breakfast time, we all went there at lunch time. I had borscht as starter, then for the main course I chose one of the two items which did not have an English translation on the menu, correctly assuming that it was a Mongolian dish. Its name was Huushur (or something similar, I didn't make a note at the time) and turned out to be mutton in batter, which was fairly palatable and very filling. We also had some German beer. Although we paid in dollars, any change was given in tugriks.
The next station was Sayn-Shand, where people were selling watercolours, and a group of youths were trying to sell a large bird's wing. It was a large town, but again it seemed like a ghost town.
For dinner I tried the other untranslated item on the menu: Buuz. Service was extremely slow and I had to wait an hour before it arrived. It turned out to be the same as lunch, but a different shape, not crispy and full of grease. The restaurant car stewardess offered to post cards for us on purchase of additional stamps, so I wrote one to my sister.
We had some drinks back at the compartment, then arrived at the Chinese border. One and a half hours of bureaucracy on the Mongolian side was followed by two hours on the Chinese side at Erlian, though admittedly that included the bogie change (back to standard gauge). During the bogie change, all the toilets were locked out of use, which caused some discomfort. Ian was not able to hold out and had to make use of an empty beer bottle.
Yak jokes were rather overdone today, especially by Andy.
The postcards never arrived.
| | |
| --- | --- |
| | Sayn-Shand station front |
---
Monday 24th March
I got up as the train arrived at Datong, but I didn't have time to go out. The landscape was completely different from yesterday's - ploughed fields divided into small plots, surrounded by mountains. I didn't go to breakfast, though some of the others did. I made some hot chocolate in the compartment, and knocked Bill's cup over while I was moving my rucksack (space is tight in the compartments). I took the tablecloth into the toilet to wash it in the washbasin, but pushed the plug too far into the plughole and it got stuck. Pulling hard on the chain, it broke, leaving the plug firmly stuck. Fortunately I was able to extract it using my penknife. At least it's the last day on this train.
The restaurant car had been replaced at the border and we now had a Chinese one. It offered a set lunch for $7, consisting of six dishes between a table of four. These included beef & spring onions, mushroom & cucumber, beef & green peppers and pork in crispy batter. It was an excellent meal, and the last one on this train. Just as we were finishing lunch, the train pulled into Qinlongqiao station by the Great Wall, so we dashed out for some photographs.
We arrived at Beijing main station on time at 15.33. There was a great feeling of achievement, but also a realisation that we were only a third of the way through our holiday. There should have been a transfer to the hotel for us, but we couldn't find it so instead took a public taxi to the Tiantan Hotel, to the south of the city centre. It seemed luxurious after the relative discomfort of the past six days, and I was glad to have a bath (yes, it even had hot water!).
We had agreed to meet up again with the Danes, Soizique and Dave & Tina at the 'Old Duck' restaurant. We had a good meal there (Beijing Duck, naturally) then walked to Tiananmen Square, where we said farewell to those who we had met on the train. We came back one stop on the metro then walked the rest of the way back to the hotel.
One pound sterling is now 13 Yuan (it was about 7 Yuan in 1988). There was lots of construction work going on in the south side of the city - it seems as though the whole area is being completely rebuilt.
Today's joke theme was 'rubbery', as in "How was your steak?" "Rubbery!" "Ah, I'm so glad you liked it".
| | |
| --- | --- |
| | Qinlongqiao station. Part of the Great Wall can be seen on the skyline above the buildings. |
---
The Train
Initial impressions on boarding at Moscow were very good. The coaches were Chinese, quite new (plates on the bogies were dated 1995) and in good condition inside. Even the toilet (which was Western style) was spotlessly clean, and equipped with soap and soft toilet paper. However, we soon discovered that there was no hot water in the wash basin, and the toilet paper had mysteriously disappeared by the first morning.
The only occupants of Coach 8 were our group of eight, and Martin, until we got to Ulaan Baatar, where the coach filled up with Chinese passengers. It was after this that footprints started to appear on the rim of the WC.
Despite being new, the samovars (water-boilers at one end of each coach) were coal-fired. Coal was taken on board at main station stops.
Our coach was classed as classed as 1st Class, 4-berth (sometimes written as 1/4). There was a 1st Class, 2-berth (1/2), which also had showers, and 2nd Class, 4-berth (2/4), which was similar to ours but smaller compartments.
---
Fellow travellers on the train
Martin, from Copenhagen. No fixed plans once in Beijing. He was the only other passenger in Coach 8 until Ulaan Baatar, and had a 4-berth compartment to himself until then. He had no fixed plans once in Beijing.
Most other 'Western' passengers were in Coach 5 nearer the back, which was 2/4 Class:
Peter and Carsten, from Randers in Denmark. No fixed plans.
Dave and Tina, from Zwolle in the Netherlands, who had given up their jobs and intended to travel for a year, and possibly settle in Australia.
Manu and Isabel, from Lyon in France, eventually travelling to Vietnam and Singapore.
Dave Fakes and two other members of Warwickshire Railway Society, travelling to China for steam trains, and returning to Britain by train, by the Trans-Manchurian route.
Soizique, an older French woman, travelling alone.
Arthur Stark, 75 years old, from Scotland. A strange man. He claimed to have been round the world 50 times and was doing it again, despite having a problematic colostomy bag. Bad-tempered, and highly reliant on fellow passengers.
An older Dutch couple, in 1/2 Class.
Two German-speaking men, who didn't mix with other passengers, also in 1/2 Class.

---

|

|

|