The Midgley Lineage
Midgley is an old Yorkshire name, being the name of two villages: one about 5 miles south-west of Wakefield, the other 1 mile east of Mytholmroyd. There is a Midgley website run by Tim Midgley, which provides a wealth of information on the origins of the family.
My branch of the family came from the village of East Keswick, in the parish of Harewood, about 7 miles north of Leeds and 4 miles southwest of Wetherby. In the 19th century, Midgley was one of the commonest surnames in the village - see the extracts from the census. In contrast, the 1999 electoral register contained no Midgleys living in East Keswick. I have produced a tree showing the descendants of Joseph & Margaret Midgley in the village, available as a pdf file.
---
Joseph Midgley [my 6x gt-grandfather]
Joseph Midgley of Breary, in the parish of Adel, in the West Riding of Yorkshire, had (at least) 3 children:
Joseph Midgley, baptised 23 May 1731 (see below)
Ann Midgley, baptised 14 Oct 1733
Robert Midgley, baptised 15 June 1736
A Joseph Midgley of Adel was buried on 26th June, 1765.
Joseph Midgley (1731 - 1812)
Joseph was christened at Adel parish church on 23rd May, 1731.
He married Margaret Cowper at Adel on 19th June, 1754, and they subsequently lived in East Keswick. The parish registers give no indication of his occupation, but it is clear from his will that he was a farmer. Joseph and Margaret had nine children, probably all born in East Keswick, and all baptised at Harewood parish church:
Ann Midgley, born 14 April 1755. Married John Dolby.
Joseph Midgley, born 23 November 1756. Married Jane Burniston.
John Midgley, born 19 November 1758. Married Mary Marston.
Robert Midgley, born 13 December 1760. Married Mary Midgley.
William Midgley, born 21 January 1763. Married Elisabeth Holmes, then following her death in 1802, married Catherine Parker.
Margaret Midgley, born 14 November 1765. Married William Marston
James Midgley, born 12 March 1768. Married Mary Hague and moved to Sherburn-in-Elmet, and later Collingham.
Jonathan Midgley, baptised 25 May 1770 (see below)
Elizabeth Midgley, born 13 September 1775
In 1779, Joseph and John Midgley are among seven signatories to an entry in the Registry Book at York Minster, giving notification of non-conformist (i.e. Methodist) worship:
We whose names are hereunto subscribed being Protestant Dissenters, do intend to make use of the house of Thomas Wright in the town of Keswick, in the Parish of Harewood, in the West Riding of the county and diocese of York, for the public worship of Almighty God. As witness our hands this 30th April 1779.
Thomas Wright
Edward Cullingworth
Joseph Midgley
John Midgley
Thomas Bayley
John Wright
John Wright (Junior)
Joseph is listed in Harewood Court Records as being a juror in the year 1785. He is described as a 'bylawman', meaning a court official responsible for the enforcement of court orders.
Joseph's wife Margaret died in 1779 at the age of 47, but Joseph lived well in to old age. From his will, it is clear that he remarried, with his second wife being called Mary. He died on the 15th January 1812, at the age of 80, and was buried in Harewood churchyard.
He wrote his will in 1807, appointing his sons John and William as executors. He divided his land and property between them as follows:
To John:
Upper House (homestead, barns, outbuildings and orchard) 1 acre 1 rood 25 perches
The Long Close and Little Close 6a 39p
The Cleve Closes 9a 3r
The Elliker and Bankhead Closes 5a 16p
West Field Close 4a 2r 25p
5 acres 3 perches of land on the Upper side of the East Keswick to Harewood road
To William:
The Lower Homestead with the Foldstead and Garth
The close called the Bank 3a 3r 21p
The Little Beck Close and the larger Beck close 4a 2r
The Maw Close 4a 10p
Thursday Close 3a 3r 17p
An allotment of land in Burn-lays 3a 1r 25p
An allotment of land on the Common 8a
Other beneficiaries in his will were his wife Mary, his sons Joseph, Robert, James and Jonathan, and his grandsons William and Richard Brommit (presumably sons of his daughter Elizabeth). A codicil written in 1811 updated the will to reflect the death of his wife Mary and son Robert.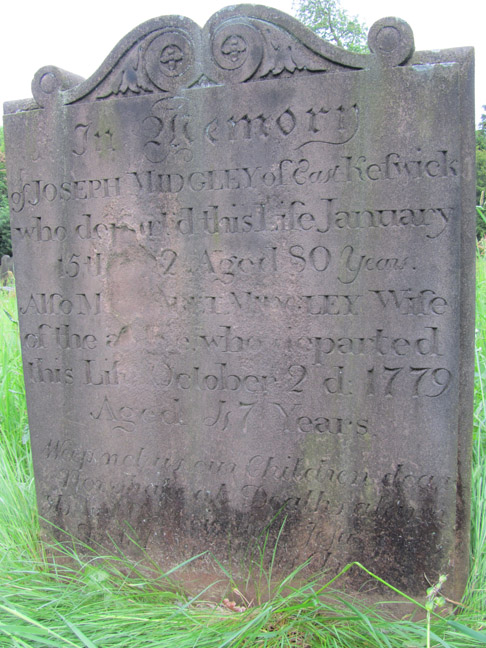 Jonathan Midgley (1770 - 1849)
Jonathan was probably born in East Keswick, and was christened on 25th May 1770 at Harewood. He married Esther Stead, the daughter of Samuel and Esther Stead of Spofforth, at Leeds parish church on 27th November 1804. Esther already had an illegitimate daughter:
Elizabeth (Betty), born 3 October 1800. Married Robert Midgley (Jonathan's nephew)
They had six further children:
Thomas Midgley, probably born in 1805 (see below)
Robert Midgley, born 16 August 1809. Married Caroline Louisa Webster and moved to Bradford.
Mary Midgley, born 21 January 1813. Married David Parker, farmer and sub-postmaster.
John Midgley, born 5 March 1815. Farmer of 165 acres in East Keswick in 1851. Died 1866.
James Midgley, born 6 August 1818. Living on his brother John's farm in 1851. Died 1855.
Ann Midgley, born 17 March 1822. Remained unmarried. Post Office clerk (for David Parker, above) in 1891.
Jonathan was, like his father (or was it his elder brother?) Joseph, a Methodist, and his name appears in the Registry Book at York Minster, applying to make use of the house of William Midgley (probably his brother) for worship. This entry is dated 20th April 1795.
Their youngest five children were all born in East Keswick, and baptised at Harewood. Jonathan was a farmer, and the "East Keswick Millenium Book" records that in 1833, Thomas and Jonathon Midgley took the tenancy of Field House Farm, a substantial farm to the north of the village, which was to be associated with the Midgleys for the next hundred years.
Esther died in 1843 at the age of 62. Jonathan died on 9th May 1849, aged 78, and is buried along with his wife in a grave in Harewood churchyard. The memorial inscription describes them both as "of Harewood Moor", and another source gives their abode as "Moor House, Harewood". In his will, Jonathan favoured his four youngest children, who were still living with him at the time of his death. His older children weren't totally forgotten: Thomas had predeceased his father, but his children got 5 shillings each, Elizabeth and Robert got £50 each.
Thomas Midgley (abt 1805 - 1843)
The 1841 census for East Keswick indicates that Thomas was born in Yorkshire, and his age at death (not always a reliable figure) indicates that he was born about 1805. His baptism is not recorded in the parish register for Harewood or any adjoining parish, and it is possible that he was another illegitimate child of Esther.
He married Mary Ann Wood at Harewood parish church, on 27th March 1830. Mary Ann was born at Pool, near Otley, the daughter of John and Anne Wood. After marrying, Thomas and Mary lived in East Keswick, and they had 5 children:
Alicia Midgley, born 3 July 1832. Married Ambrose Brogden and farmed at East Rigton.
Charles Henry Midgley, born 15 January 1834 (see below)
John Midgley, born 31 March 1836, died 1841
Stephen James Midgley, born 23 July 1839, died 1841
Edward Midgley, born 27 November 1841. Married Sarah Ann Beart of Welney, Cambridgeshire, but settled in East Keswick and worked as a farm labourer
Thomas worked as a farmer. Thomas died of smallpox on 31st January 1843, aged 37, and was buried at Harewood parish church. His widow re-married, in 1850, Charles Buckborough, and continued to live in East Keswick until her death in 1891.
Charles Henry Midgley (1834 - 1876)
Charles Henry Midgley was born on 15th January 1834, in East Keswick, near Wetherby. He was baptised on 30th March of the same year at Harewood parish church, and lived in East Keswick before his marriage.
He married Sarah Ann Hogg on 8th August 1857, at Collingham parish church. Sarah Ann was the daughter of Thomas Hogg, a farmer, and his wife Mary, originally from Collingham but having moved by this time to the nearby village of East Keswick.
Charles and Sarah had seven children, all born in East Keswick with the exception of James:
John Thomas Midgley, born 1857, died 1866
Charles Hogg Midgley, born 1859. A schoolmaster in Nottinghamshire in 1881, and later in Scarborough where he married Frances Turner.
James Midgley, born 25 July 1861, at Otley Road, Beckwithshaw (see below)
Henry Midgley, born 1862-3. Married Elizabeth Shaw of Leeds. A licensed victualler at the Star Inn, East Keswick in 1891
Osmond Midgley, born 1867. Farmed at Field House, East Keswick from c.1900 to c.1930. Married Charlotte Wrigglesworth.
Annette Midgley, born 1869. Married Charles Howarth, a timber merchant, and lived in Collingham.
Mary Ann Mar Midgley, born 1874. Married Frank Browne and lived in Wetherby.
Charles's occupation is given as Farmer on his marriage certificate, Farm Labourer in the 1861 census, and "Farmer of 9 acres" in the 1871 census. Charles and Sarah lived at East Keswick for most of the time following their marriage (they were living with Sarah's father in South Street in April 1861), but appear to have briefly lived and farmed at Beckwithshaw, near Harrogate, around the time of James's birth in July 1861.
Charles died at the age of 42, on 26th or 27th November 1876 (sources vary). By the time of his death, he had moved to Field House, a substantial farm to the north of the village of East Keswick. He was buried at the church of St Mary Magdalene, East Keswick, where there is a large gravestone at the front of the church.
His widow continued to farm at Field House until shortly before her death in 1908, by which time she was living at South View, East Keswick.

| | |
| --- | --- |
| | Field House, East Keswick, photographed in 1996 |
James Midgley (1861 - 1932)
James was born at Otley Road, Beckwithshaw, in the parish of Pannal, near Harrogate, on 25th July 1861. By 1863 the family had moved back to their home village of East Keswick, where James grew up. By the time he was 20, he was farming, with his mother, at Field House, a large farm to the north of the village.
He married relatively late for those days, at the age of 32. His bride was Mary Emily Bentley, who came from a family of innkeepers in Holbeck, Leeds, although her paternal grandmother, Eleanor Hartley, had been born in East Keswick. The wedding was at St Matthew's parish church, Holbeck, on 13th April 1893. Mary moved to live with James in East Keswick.
James and Mary had two children, both born at Far Field House in East Keswick:
Doris Midgley, born 5 January 1894 (see below)
Louisa Midgley, born 8 October 1901. Married Wilfred Sones.
In December 1894, James was elected to East Keswick parish council.
Various sources indicate that James was living and farming at Far Field House from 1894 until at least 1908. The 1901 census shows the family at Moor Farm, although I believe that is an alternative name for Far Field House. By 1911 the family were living at Langwith Terrace in Collingham, although James was still shown as being a farmer and an employer. A 1912 directory also lists James at Langwith.
The family then left Yorkshire, moving 50 miles northwest to Kirkby Lonsdale in the county of Westmorland. The reason for this move was explained to me by my great aunt Louie, James's younger daughter. James's horse and cart was involved in a collision with a steam roller on the road to Wetherby, and he sustained injuries which prevented him from farming. He and his family initially moved to Langwith Terrace, Collingham. Mary had a nephew, Harry Wilkinson, who was a keen motorcyclist, and regularly went to rallies in Morecambe with a friend, Frank Speke. They used to call at the Temperance (Waverley) Hotel in Kirkby Lonsdale, where the hotel keepers had two daughters, Isabel and May Airey. Harry and Frank married the two daughters in 1913, so the Midgleys got to know the hotel keepers. When they decided to retire, James Midgley took over the hotel.
Kelly's directory of 1914 lists James's address as Temperance hotel, Market square, Kirkby Lonsdale. He was still there in 1918 when his daughter Doris married: James's occupation is given as Hotel Keeper.
By 1921 James, Mary and Louisa had moved to 1 Norton Road, Sandylands, Heysham. James died there on 22nd February 1932; Mary died there on 27th December 1948.
Doris Midgley (1894 - 1986)
Doris was born at Far Field House, East Keswick on 5th January 1894, the first child of James and Mary Midgley. She was christened at East Keswick on 4th March, 1894. As a girl she lived at Far Field House (or Moor Farm), then later at Langwith Terrace, Collingham. In 1911, aged 17, her occupation is given as Typist.
Around 1913 she moved with her family to the Temperance Hotel in Market Square, Kirkby Lonsdale, where her father had taken over as hotel keeper. Five years later, she married Joe Braithwaite Armitstead, who also lived in Market Square. The wedding took place on 15 August 1918, at St Mary's Parish Church, Kirkby Lonsdale.
Doris and Joe may have lived in Kirkby Lonsdale after their marriage, but later moved to Carnforth, Lancashire. They were at 138 Lancaster Road in 1921; 14 Lancaster Road in 1922-26. They had just one child:
James Harry Armitstead, born 21 April 1926
The family had moved to 48 Brunswick Road, Heysham, by 1927, and later (mid or late 1930s) moved to 153 Torrisholme Road, Lancaster. After Joe died in 1967, Doris continued to live in the same house, and remained active and independent well into her old age. She was able to walk the mile into Torrisholme village and catch a bus home until the age of about 90, and it was only in her last couple of years that she became a little unsteady on her feet, and began to rely on others for assistance with shopping and other tasks.
She died peacefully in her sleep on 2nd December 1986, a month short of her 93rd birthday, and was cremated at Lancaster & Morecambe Crematorium.
John Armitstead, York, England. Last update 17 January 2023