The Bentleys of Holbeck
---
John Bentley [my 4x gt-grandfather]
Father of Joseph Bentley (see below). Possibly living at Braithwait's Field, Demain Row, Holbeck in 1841 with wife Fanny; occupation woollen cloth weaver.
Joseph Bentley (1801 - 1863)
Joseph was born in Holbeck, near Leeds, on 3rd August 1801, and was christened at Leeds Parish Church (St Peter's) on 16th September of that year.
On 23rd April 1821 he married Eleanor Hartley at Leeds Parish Church. Eleanor was the daughter of Thomas and Ann Hartley of the Lord Nelson Inn, Holbeck Lane, Holbeck. The Hartleys had moved to Holbeck from East Keswick, near Wetherby.
Joseph and Eleanor had thirteen children, all born in Holbeck:
Anne Bentley, baptised 14 October 1821
Mary Bentley, born 11 April 1823. Married Michael Hemingway.
Thomas Bentley, born 30 November 1824, presumed died young
Elizabeth Bentley, born 3 September 1826. Married Benjamin Fairfax Mann. Died in 1846.
Margaret Bentley, born 15 May 1828. Married William Woodhouse in 1845, but he died in 1848. The following year she married her widowed brother-in-law, Benjamin Fairfax Mann. Margaret herself died in 1854, aged 26.
Samuel Bentley, born 23 July 1830. Married Mary Ann Phipps of Loughborough. Took over as licensee of the Lord Nelson after his father's death. By 1871 was at the Black Lion, Loughborough (now the Tap and Clapper)
Thomas Hartley Bentley, born 13 June 1832 (see below)
Joseph Bentley, born 1833
John Bentley, born 10 June 1835
Ellen Bentley, born 23 May 1837. Married John Graham.
Ann Bentley, born 1839-40
Ann Marston Hartley Bentley, born 1843
George Bentley, born 1846. Married Esther Cluderay.
Joseph's occupation is given consistently as 'clothier' at his children's christenings until 1837. In the 1841 census, he is living at Nelson Row, Wortley, occupation woollen spinner. However, by 1845 he had taken over at the Lord Nelson Inn, following the death of his father-in-law. He remained as innkeeper there until his death on 29th March 1863. He was buried in Holbeck Cemetery.

The Lord Nelson Inn, in Holbeck Lane, photographed in 1996


The Lord Nelson Inn, photographed in April 2010, after closure.
The building was destroyed by fire in August 2011, and demolished.
After Joseph's death, his widow Eleanor lived at 24 Gelderd Road, Wortley, where her occupation was given as 'landlady' in the 1871 census. She died at Gelderd Road on 3rd July 1875.
Thomas Hartley Bentley (1832 - 1884)
Thomas was born in Holbeck on 13th June 1832, the seventh of thirteen children, and was christened at St Matthew's Church, Holbeck, on 12th August of that year. In 1841 he was living in Nelson Row, Wortley. By 1845, he would have been living at the Lord Nelson Inn, which was then number 71 Holbeck Lane. I have not yet located him in the 1851 census: he was not living with his parents then.
He married Emma Robinson, the daughter of Joseph and Sarah Robinson, at Leeds Parish Church, on 7 December 1852. Emma lived at 64 Holbeck Lane, just down the road from Thomas. At the time of his marriage, Thomas was working as a warehouseman.
Thomas and Emma had six children:
Joseph Robinson Hartley Bentley, baptised Holbeck 14 August 1853, died 13 October 1854
Sarah Ellen Bentley, born Holbeck 1855. Married William Brook and lived in Wortley.
Louisa Bentley, born Holbeck 13 February 1858. Married Thomas Garforth Wilkinson, and moved to Heysham, Lancashire.
Robinson "Robbie" Bentley, born Holbeck 20 October 1859. Married Emma Wood and became an Innkeeper, first at the Fox Inn, Thorner, near Leeds, then from about 1890 at the Swan Inn, Colne, Lancashire. After his first wife died, he married Florinda Bycroft, but she also died young, in 1906. Robbie died in 1931, in Pocklington, Yorkshire.
Eliza Lofthouse Bentley, born Armley 28 September 1861. Died 5 April 1863.
Mary Emily Bentley, born New Wortley 25 March 1865 (see below)
Thomas Hartley Bentley, born New Wortley 1867. A cooper, married Annie Brown. Committed suicide in 1897.
Following their marriage, Thomas and Emma lived with Emma's parents, but by 1865 had moved to Prince Street, New Wortley. An 1861 trades directory lists him as a bookkeeper at a woollen mill, and he later formed the firm of Lockwood & Bentley, Woollen Manufacturers and Scribblers, in partnership with Tom Lockwood. However, the partnership was dissolved in January 1866, and he and Tom were both declared bankrupt. The following notice appeared in the London Gazette of 27th April, 1866: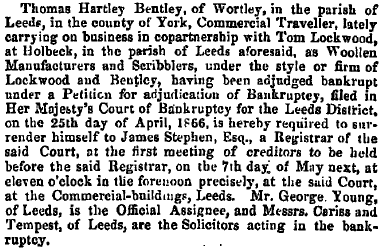 An 1870 trades directory lists him as a manager at a woollen mill, and gives his home address as 40 Holdforth Street, New Wortley.
Following his father's death in 1863, the running of the Lord Nelson had passed to Joseph's oldest surviving son, Samuel, who became a third-generation innkeeper there. However, by 1871 Thomas had taken over at the Lord Nelson, where he remained until his death on 13th May 1884. He was buried in Holbeck Cemetery, in the same grave as his father.
In his will, he left his estate, valued at £180 15s, to his widow and his son Robinson ("Robbie"), who continued the family tradition as licensee of the Fox Inn at Thorner, a village to the northeast of Leeds (and by 1891, the Swan Inn in Colne, Lancashire). His widow Emma continued at the Lord Nelson for a few years after his death (still there in 1887), but she later (by 1891) moved to live with her daughter Louisa at 76 Domestic Street, Holbeck. Emma died on 11th May 1897, at Far Field House (home of her daughter Mary), East Keswick, and was buried in Holbeck Cemetery.
Mary Emily Bentley (1865 - 1948)
Mary was born at Prince Street, New Wortley, near Leeds, on 25th March 1865, and was christened at St John the Baptist, New Wortley on 27th September 1865. By the age of 6 she had moved with her parents to the Lord Nelson Inn, although the 1881 census records her living next door (24 Holbeck Lane) with her grandmother Sarah Robinson. Prior to her marriage in 1893 she was living at Garforth House, 76 (now 118) Domestic Street, Holbeck. This house probably belonged to her brother-in-law, Thomas Garforth Wilkinson. At the time of the 1891 census, she was a visitor at Thomas's sister's in Glinton, near Peterborough.
She married James Midgley, of East Keswick, on 13th April 1893 at St Matthew's Church, Holbeck. Mary and James settled in East Keswick, a village 8 miles northeast of Leeds, where James farmed with his mother at Field House, just to the north of the village.
James and Mary had two children, both born at Far Field House in East Keswick:
Doris Midgley, born 5 January 1894
Louisa Midgley, born 8 October 1901
After their marriage, James and Mary lived and farmed at Far Field House, the other side of the main Otley - Wetherby road from Field House, and were there until at least 1904. In 1911 and 1912, they were living at Langwith Terrace, Collingham.
The family then left Yorkshire, moving 50 miles northwest to Kirkby Lonsdale in the county of Westmorland. The reason for this move was explained to me by my great aunt Louie, Mary's younger daughter. James's horse and cart was involved in a collision with a steam roller on the road to Wetherby, and he sustained injuries which prevented him from farming. The family initially moved to Langwith Terrace, Collingham. Mary had a nephew, Harry Wilkinson, who was a keen motorcyclist, and regularly went to rallies in Morecambe with a friend, Frank Speke. They used to call at the Temperance (Waverley) Hotel in Kirkby Lonsdale, where the hotel owners had two daughters, Isabel and May Airey. Harry and Frank married the two daughters in 1913, so the Midgleys got to know the hotel owners. When they decided to sell, James Midgley bought the hotel.
Kelly's directory of 1914 lists their address as Temperance hotel, Market square, Kirkby Lonsdale. They were still there in 1918 when their daughter Doris married.
Mary and James then moved to Heysham, and may have lived in Sefton Road, in a house named "Farfield" after their old home in East Keswick, but by 1921 they were living at "Briar Garth", 17 Norton Road, Heysham. Mary died on 27th December 1948, aged 83, at Briar Garth.
In her will, the proceeds of the sale of her house was shared between her two daughters, with the remainder of her estate going to Louisa, who was at that time still unmarried and living with her mother.
John Armitstead, York, England. Last update 21 January 2022