Silk Route By Rail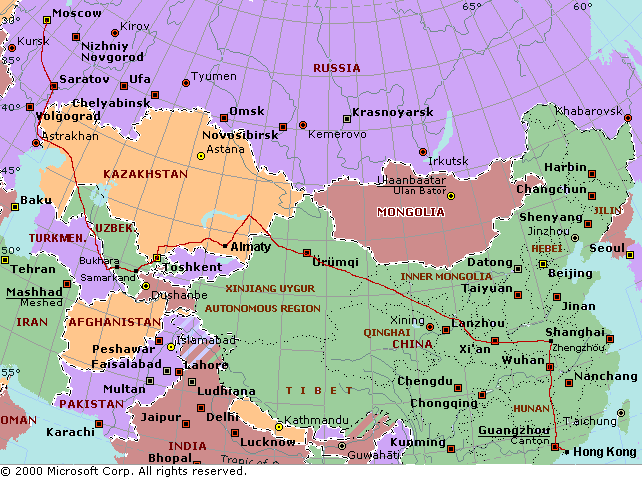 Route: Moscow - Bukhara - Samarkand - Tashkent - Almaty - Ürümqi - Zhengzhou - Hong Kong (11100km/6900miles)
This has been my most ambitious long-distance train journey to date - from Moscow to Hong Kong via the mysterious and exotic Central Asian republics of Turkmenistan, Uzbekistan and Kazakhstan. The route took in sandy deserts, the beautiful and ancient silk route cities of Bukhara and Samarkand, snow-capped mountains and the sub-tropical greenery of southern China.
The journey was a natural successor to my two previous journeys to Hong Kong via the Trans-Siberian railway, in 1988 and 1997. At the time of my 1988 trip I was aware that a new railway was being built between Kazakhstan (then part of the USSR) and China, and when some friends suggested a trip to China in 1997, we gave some thought to going this way then (the railway had been completed in 1992). However, we were put off by tales of it taking months to get all the required visas, and settled for the more usual Trans-Siberian route, which was much easier to organise.
However, another opportunity presented itself in 2000 when the Institution of Railway Signal Engineers (IRSE) decided to hold their Annual Convention in Hong Kong, in September of that year. This time I was determined to get things organised and so with the help of the Thomas Cook World Timetable and a copy of "Silk Route By Rail" by Douglas Streatfeild-James, planning began in early 2000. I wanted to include some stopovers in Central Asia, and after several discussions with travel specialists Steppes East the itinerary was decided.
This photos on this page just give a taster of the journey. For the full story, with more pictures, go to

Thanks to Paul Craven of Steppes East (now Steppes Travel) for making all the arrangements, and to Farkhad & Maya for making our stay in Bukhara so enjoyable.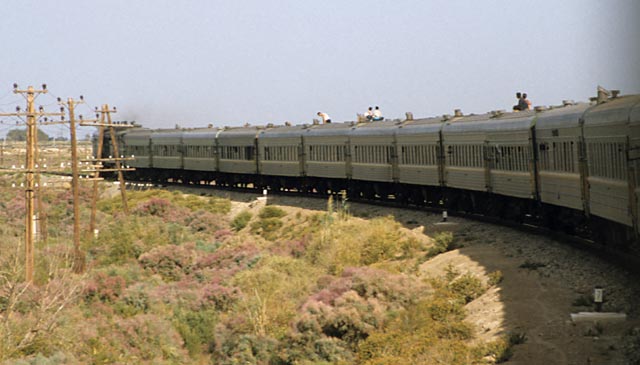 Our first, and longest, train journey was on Train 134 from Moscow to Bukhara, which took three days. This photo, taken from the rear of the train, shows it in the semi-desert near Qongirat, Uzbekistan. Note the passengers on the roof.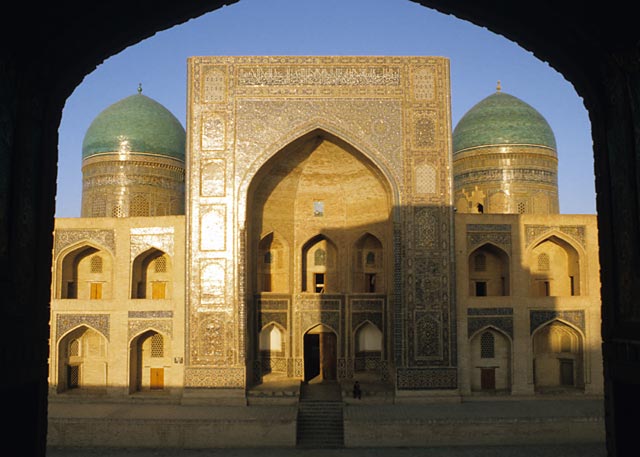 We spent three days in Bukhara, Uzbekistan. Its ornate buildings, such as the Mir-i-Arab Medressa (Islamic college) shown here, are rarely visited by Western tourists.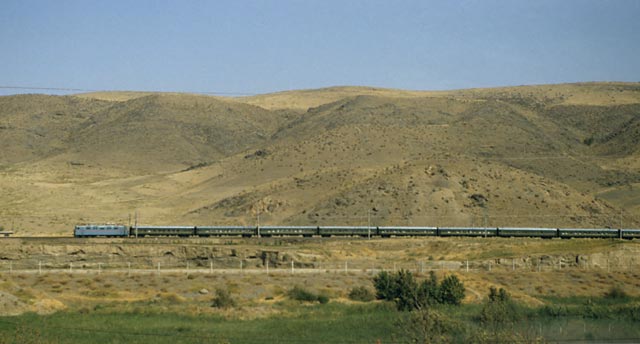 We travelled by road for the relatively short journeys within Uzbekistan. The road from Samarkand to Tashkent runs close to the railway, and I was able to take this photo of a westbound train near Gallaorol.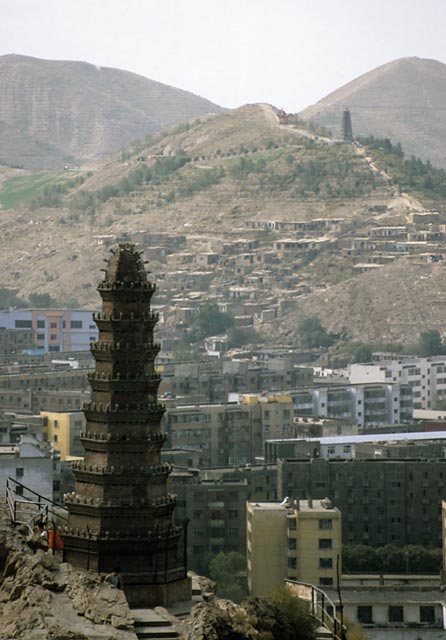 We entered China by train from Kazakhstan, and stayed in the city of Ürümqi, in the Xinjiang Uyghur Autonomous Region.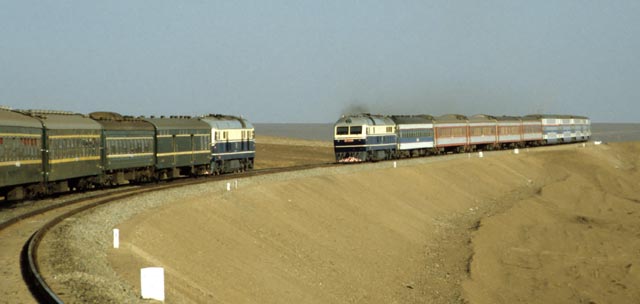 We continued eastwards through China, and this shows our Ürümqi to Zhengzhou train (left) passing a westbound train near Turpan.
For the full story, go to